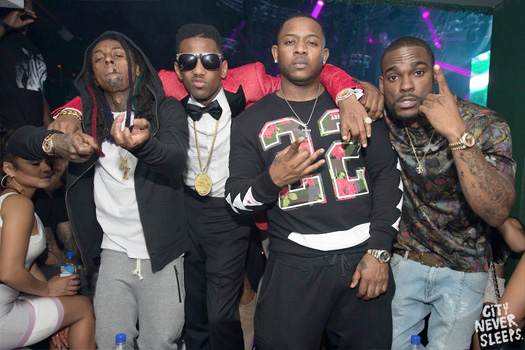 Last week, Fabolous made an appearance on Power 105.1's "The Breakfast Club" radio show in New York City to chop it up with DJ Envy, Angela Yee and Charlamagne Tha God that you can check out in the video below.
It was the 15th anniversary of Loso's debut studio album, Ghetto Fabolous, earlier this month so it was only right that he spoke on it. At the 32:15 mark of the clip, Fab was asked by Charlamagne what happened to Lil Wayne being a feature on the project and why the song never came out.
This is then when Fabolous tells the hilarious story of how Wayne and Cash Money requested their to be 4 bottles of Cristal champagne at the studio for when they come through, which had him thinking that they were all going to chill and pop champagne at the studio, but it didn't turn out like that. Weezy pulled up, did his verse in 30 minutes, grabbed the 4 bottles, and then left haha!