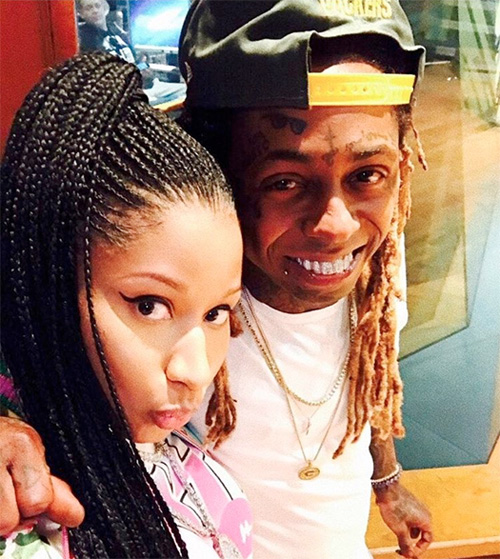 At the weekend, David Guetta, Lil Wayne and Nicki Minaj shot a music video for their new "Light My Body Up" collaboration in Miami, Florida.
While sharing a photo from on set of the video shoot, the Young Money Barbie recalled reciting a line off her and Tunechi's "Go Hard" freestyle in front of Tune back in 2008.
You can read exactly what Nicki said about one of her first ever encounters with Weezy after the jump below! Who is looking forward to seeing a "Light My Body Up" visual?
"I am da ninja. Weezy is my sensei. So I call him Splinter. Faster than a sprinter. Gimme my chopsticks I'll have these rap btchs 4 dinner. ~ I'll never forget saying this line from one of my Mixtapes to Wayne maybe 8 or 9 years ago. He's on the freestyle with me called Go HARD. it was my first time listening to it WITH him in the same room. Same studio right here in Miami. He looked me dead in the eyes and in that (whisper voice), he smiled & said 'I fuk wit it Nic, but the only thing is that… Splinter was a RAT. And we don't FUK wit no RATSSSSSSS'. – FKN GOAT @liltunechi YOUNG MONEY TIL DA DEATH OF ME!!!!!! #NoFrauds #NoSnitch Why do niggaz claim the streets then act just like the law? Riddles that I can not seem to solve, man"