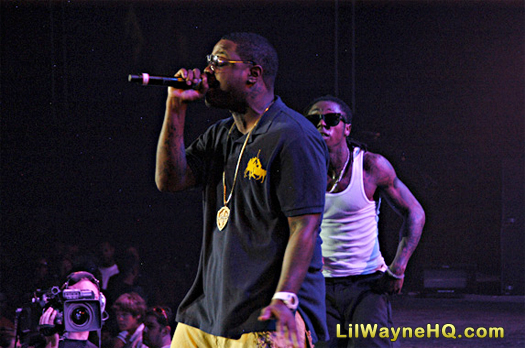 Former Young Money artist Jae Millz recently chopped it up with AllHipHop at OG King Louie's dispensary in downtown Los Angeles to chat all about his departure from Lil Wayne's record label.
Millzy also spoke on his loyalty to Tunechi and Young Mula, the BET Awards banning their "Every Girl" performance in 2009, seeing the Tune vs. Birdman situation coming before the actual lawsuit, and plenty more.
You can read everything what Jae had to say after the jump below!
AllHipHop: Why did you leave Young Money?
Jae Millz: See, my loyalty kept me there longer than my reality should have let me stay there. Wayne never had to put me on, he didn't have to put me on that flight. He didn't have to put me on "Every Girl," "Bedrock," Dedication 3, or take me around the world. I remember I missed my flight for the BET Awards and Mack Maine had to be me on the BET Awards like I thought I was done. But the best thing about it, which was the worst thing about it, is that BET banned that performance, so you'll never see it again.

AllHipHop: Why'd they ban it?
Jae Millz: They were performing "Every Girl," I was at home watching it, and Wayne let his daughter come on stage. This is when Drake's leg was hurt, so BET got a lot of flack for us performing. Just having little girls on stage during "Every Girl," even though it was their kids. But I was glad they banned it because Mack Maine was up there saying my verse. You never would have noticed it. We kind of passed for brothers. At around 11:30 pm, you would definitely get "Yo Mack Maine!" I be like, "No I'm Jae Millz." He'd definitely get, "Yo Millzy!" He'd be like "No I'm Mack." Shout out to Mack Maine though. Shout out to Young Money, shout out to all of them.

What made me want to leave was just reality hitting of, maybe you've went as high as you go here. Prime example, remember when Shaq left the Orlando Magic to become a Laker? He went to the Finals, he broke down the backboards, he was Rookie of the Year, he was Shaq.

But he would have never been the Shaq that we know today he would have never left Orlando and became a Laker. He could have stayed there just as long as Penny Hardaway did, maybe Penny Hardaway should have left earlier. Not to knock their careers with Orlando, but maybe that's the highest you could have gone there.

AllHipHop: What about the rest of the label?
Jae Millz: I don't feel no sort of way towards Drake or Nicki or Tyga because I feel like I was just caught up in a time where they had megastars at the label. You gotta think, it was 10 of us. It was Drake, Nicki, Tyga, Gudda Gudda, Lil Twist, Lil Chuckee, Shanell, Cory Gunz, Jae Millz. It was so many that when the ball started rolling with Drake, when it started rolling with Nicki and then Tyga caught his wave, it was hard for them to focus on anything other than that, AND still focus on Wayne. Then it got bad. I been seeing the Birdman and Wayne thing coming.

AllHipHop: They're cool right?
Jae Millz: Yeah, they're cool now. We all saw it coming, but we never thought it would get serious, so we all was just waiting it out. After a while… my daughter was born. When I got to Young Money, I didn't have a child. When I left Young Money, my daughter was four. So it went from wanting to fuck every girl in the world, so now you gotta make sure your daughter is taken care of after school, charter school, uniforms, and all of that. Just as much as Wayne is trying to figure out what's going on with him and Birdman, I gotta figure out what's going on with me and Young Money now.

Now, your loyalty should keep you here, but your reality is not going to let you stay that long. Now, when your bills get piled up, it's hard to sit around and try to figure out how y'all gonna figure out how Wayne bills gonna get paid.

You just gotta make a decision, it's a business decision. It's the same business decision Wayne had to make with Birdman, it's nothing personal. He doesn't hate Birdman guts but it's like, "I gotta figure something out." With me, it was more so I gotta figure something out. I know that there's not plan for my album here right now. Maybe I can just stay here and do what I'm doing here, ride this wave and tour with Wayne.

He'll throw me on his mixtapes and albums and I can ride that wave, or I can go and get an independent deal somewhere else and make it look like I'm Young Money. But I'm like nah, that's corny.

I could of did that a lot of times, but that's corny. If I was gonna do it with the nigga that was gonna help me, then I'm do it with him. If I can't, then I'ma figure it out. But that don't mean that I don't fuck with him or can't do nothing with him, maybe it just wasn't made for me to put an album out under his label.

AllHipHop: Were you waiting it out for the contract?
Jae Millz: No, I was waiting it out like everybody else was waiting it out. Just to see what was gonna happen. Is this gonna really keep going for this many years? You gotta think as time goes on, my daughter is getting older and older. I'm getting older and older. I'm looking at it like, well when he does get this finalized when Young Money gets the situation with Cash Money situated, is there a plan for me then?

Even when he gets his business right, will my business be right? Or is still like, "Well what are we doing?" 'Cause I ain't got no problem thuggin' it out with my homie, I rode it out basically until the wheels fell off. Not saying that the wheels fell off on Young Money, but I'm saying the wheels fell off for me.

It got to the point where it was like, "Your car can't even roll with the tour bus no more.

AllHipHop: What was their explanation for that though?
Jae Millz: I never really wanted an explanation. I knew what it was, I was there long enough. I seen what it came to, I seen what it was becoming. The writing was on the wall a long time ago. I probably should have left Young Money two years before I left. But my loyalty kept me there longer than what my reality was allowing me to be like "nah this ain't it fam. You need to get up outta here."

You gotta think before you have a kid, it's cool to be on tour for five or six months not getting paid. You're on tour. You're fucking every girl in the world. You're in London, you're in Paris.

You're seeing the flourishment of Drake. You're seeing when he came around and how he was so excited. I came around, he was like, "Yo we got this nigga from Toronto, he on this Nickelodeon show. He sing and rap, this nigga nice!" And then played me "Successful."