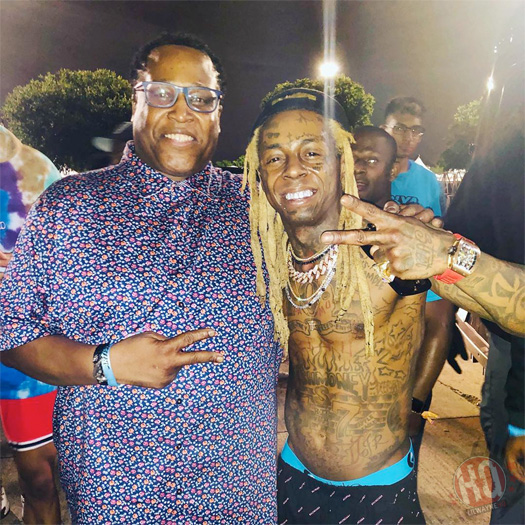 As we know, Lil Wayne was due to headline the 2019 Rolling Loud music festival at the Hard Rock Stadium in Miami, Florida last night (May 11th).
However, when Wayne got to the venue, he decided to cancel his performance as he did not want to be searched by the police:
"To all my fans who came to see me at Rolling Loud, I'm sorry but I won't be performing. The Festival Police (Not Rolling Loud) made it mandatory that I had to be policed and checked to get on the stadium grounds. I do not and will not ever settle for being policed to do my job and give you guys a great show. I will be at Story tonight for the afterparty and you kan katch me on tour with my bros Blink 182 this summer!"
I do not know if Tunechi got news of Kodak Black getting searched and arrested for weapon charges earlier on in the day by the festival police and it made Tune decide to not go through with the mandatory search, or if he is just sticking to what he said on the "Do's And Dont's Of Young Money" skit off Dedication 3:
"I hate… don't check, don't you ask to check nothing of mine; If I'm coming into your place of business and you scheduled for me to be there; Bitch, I don't have to be there; I have a very nice home, ya understand? And boy look here, just don't be tryna check me dude; I ain't tryna steal or hurt nobody in none of them places; I'm rich as a motherfucker and that's the last thing I want, a confrontation or a problem; I am trying, I am; Son, don't check me."
You can check out Weezy's tweets below!
and give you guys a great show. I will be at Story tonight for the afterparty and you kan katch me on tour with my bros Blink 182 this summer! ??

— Lil Wayne WEEZY F (@LilTunechi) May 12, 2019