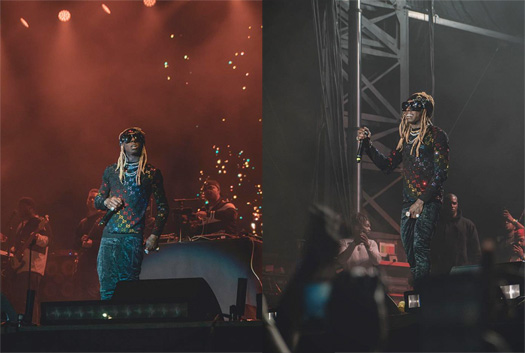 Lil Wayne headlined this year's Broccoli City Festival at the FedExField stadium in Maryland on April 27th.
During his set, Wayne performed "Mr. Carter", "I'm Goin' In", "John", "Let It Fly", "Got Money", "Go DJ", "Lollipop", "Mrs. Officer", "The Motto", "Steady Mobbin'", "Mona Lisa", "A Milli", "Uproar", and more songs live.
At the beginning of "The Motto", Weezy also paid a little tribute to the late Nipsey Hussle by telling the crowd:
"Make some noise for my nigga Nip, I said make some noise for my nigga Nip!"
You can check out some footage of Tunechi's live performance at the 2019 Broccoli City Festival below. Tune revealed "A Milli" is his favorite song at this show too!
Pic credit: PeeteysPlanet.