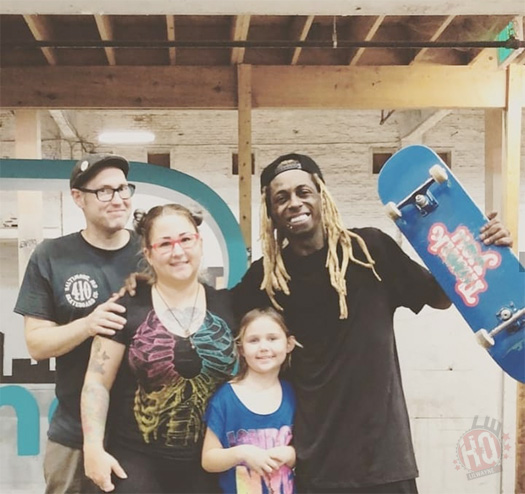 Fabian Marasciullo recently chopped it up with REVOLT for an interview for their "Studios Sessions" series, which you can read below.
During their conversation, Fabian revealed what he remembers about Tha Carter album studio sessions, how Lil Wayne became a "studio rat" after C1, what the making of Da Drought 3 was like, what his personal favorite mix that he created for Weezy is, and more.
The mixing engineer also explained how lots of Tunechi music, such as the songs from Tha Carter III Sessions, leaked "in the most frustrating and heartbreaking way"!
Last month was the 15th anniversary of the start of Lil Wayne's Tha Carter series. What do you remember about those Carter 1 sessions?
Oh, I remember [the C.O.O. of Young Money Entertainment] Cortez [Bryant] was a fucking nerd with his backpack. Now, he's the almighty Cortez that runs the world. I remember this dork and you can quote me on that (laughs). We all knew [Lil] Wayne had something special… I don't think people give credit to him for the things he's created. One of those records that stick out to me is 'Go DJ.' At the time, most of the southern rap and popular records had like 10 fucking lead tracks.

When I got 'Go DJ' for me to mix, it was like that. I probably have the original session. There were so many vocals and Wayne was talking a lot of shit. But, you couldn't really understand it. I took out all of the vocals except for one. This was risky because I'm this little white boy in the studio with 25 [people] from New Orleans with machine guns (laughs)… I told them I thought it was dope like this and I hit play… [Cash Money Records Co-Founder] Slim was like, 'That's dope. Let's go with it.' … Baby was cool with it, so we ended up putting a second lead in. It really set a trend with music from a mixing perspective. When that song blew up, if you listen to rap from that time or earlier, you'll hear a difference with how these songs were mixed.

After Tha Carter 1, Lil Wayne started to put out a lot of music. Was there a time where you noticed that recording started to pick up?
We always had a studio for Wayne every night. [He] doesn't like to be around people [or] go out… So, he became this person where if he's not in the studio, then he doesn't know what to do with himself. It was right after Tha Carter 1 when he started to get like that. He turned into a studio rat. Even now, we have two engineers on him 24 hours… and he works around the clock. It's been like that for years.

Between Carter II and Carter III, so much music from Wayne came out as leaks and on unofficial mixtapes. Were any of those planned leaks?
Those songs were leaking in the most frustrating and heartbreaking way. At the time, we were in Miami. The problem was Wayne would leave the studio at six in the morning after being in there all day, go to his crib, drive his Rolls-Royce, park it and leave it to the valets with all the CDs in the car. This was before you could text songs through iMessage. So, that's how a lot of those leaks happened. It was just Wayne being tired. A couple of times, it was a disgruntled employee.

Then, in the middle of that, his seminal mixtape Da Drought 3 came out. What was the making of that like?
He was starting to have some personal problems at the time, so that was his release. Wayne's genius lies in creating the music. At the time, a lot of that stuff was Cortez, Mack Maine and Baby looking at all this music like, 'We have to do something with this.' Wayne just makes the music. I literally just got a Dropbox notification saying he did 16 sessions [the night of August 4].

For Carter III, weren't there two versions of 'A Milli'?
There's a bunch of versions of 'A Milli' (laughs). Wayne records so much.

What's your personal favorite mix that you've created?
'Buy You A Drank' by T-Pain, which allowed me to buy my first Bentley. Then, there was 'Lollipop' by Lil Wayne, which I still get work from. If you get one song every 10 years, that's big. You can live the rest of your life mixing records. It's as simple as that (laughs).