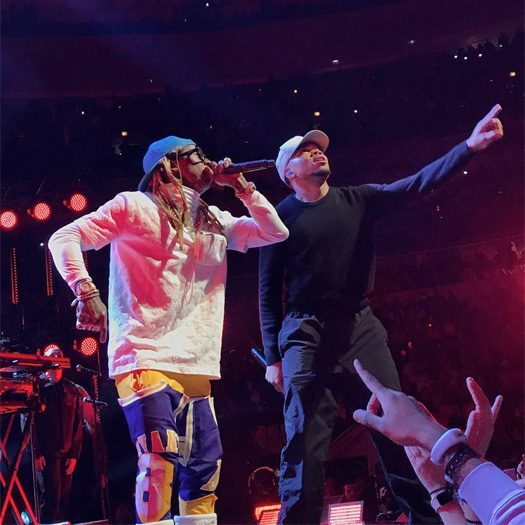 The following day after performing with Damian "Dame D.O.L.L.A." Lillard on February 15th, Lil Wayne hit the stage with Chance The Rapper at the United Center in Chicago, Illinois.
Chance brought out Wayne, who was rocking pants created from Kobe Bryant jerseys, to perform their "No Problem" collaboration live during the halftime show at the 69th annual NBA All-Star Game.
During his verse, Weezy switched up the lyrics a little bit to pay tribute to Kobe and his daughter Gianna after they passed away from a helicopter crash less than a month ago: "Rest in peace to Kobe Bryant and his daughter, blood".
You can check out the Chicago rapper and Tunechi performing live at this year's NBA All-Star Weekend event after the jump below. Fabolous event witnessed Tune's 2 sons rapping his "No Problem" verse word for word!
Just saw Weezy 2 sons rapping Wayne verse from Chance the Rapper "Problem" word for word.. Dope af #TheFamily

— Fabolous (@myfabolouslife) February 16, 2020
Photo credit: Adam Leff.