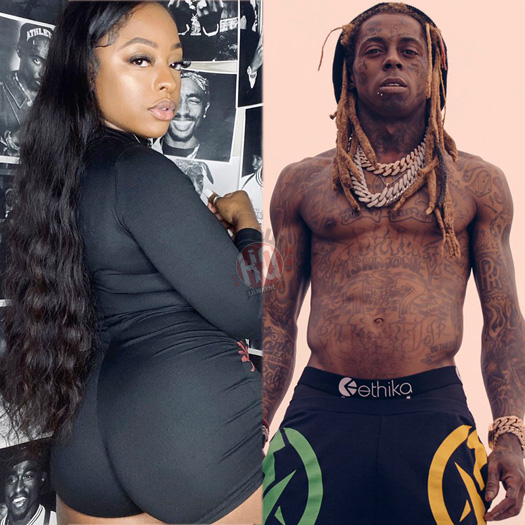 KenTheMan has revealed in a new interview with HipHopDX that her favorite rapper "was and still is" Lil Wayne.
The female rapper from Houston explained how she became a "super Wayne head" and how she has been sending him her freestyles in the DMs on Instagram.
She also recalled a story of how she wrote down all of the lyrics to Weezy's "Rollin'" freestyle off Sorry 4 The Wait in a letter and sent it to her boyfriend, who was currently in jail and couldn't listen to the mixtape even though he was also a big fan!
"At the time, I was a real metaphorical rapper because Wayne was and still is my favorite rapper and I just admire and love him so much. So it's kind of like, that was my focus when I did my first-ever mixtape. I was listening to nothing but Wayne! Listening back I can even tell I was listening to him because I had way more punchlines. And then as I elevated, I realized people like punchlines… but it's usually the dudes."

"When I knew I was a Wayne fan was when I could understand what he was really talking about. When you're young it was like, I knew I was a fan but I wasn't like, a super fan and it was cause I ain't know what he was talking about! He was too grown so it was kind of like I didn't catch everything. But in high school, I started dating this guy and he was a Wayne head and I think he kind of made me into one. Wayne was a big deal in my high school. He was super influential in my city."

"I remember in 2011 my boyfriend at the time – he went to jail! He went to jail when Wayne came out with Sorry For The Wait and so why did I write all the lyrics to [SFTW cut] 'Rollin' down in a letter to him! I was like: 'Wayne dropped some new shit! You can't hear it so I'm finna write it!' I was like: 'He tore this bitch up!' Sorry For The Wait, Dedication 5, I think Da Drought 3- I don't remember if that's the one – No Ceilings… those are some of my favorite tapes. I've always been a super Wayne head."

"I'm like, can you just notice me finally! "I put on my story one day like: 'who else I need to hit up?!' Cause I hit up Mack Maine, everybody. I used to send Wayne all my freestyle videos like: 'I know you'll like this one, Wayne!' I used to get on songs and do my freestyles on shit he freestyled on. One day he gon' see me and I can't wait on the day because I just can't wait to see what he got to say about me. Like Tune, do you think I go hard?!"