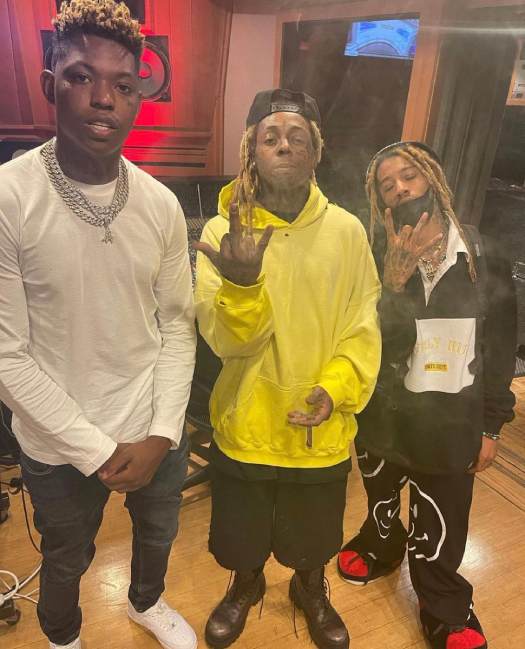 We first heard about these two working together in L.A. last month, and now Yung Bleu has confirmed Lil Wayne has recorded a full song over one of his beats.
Taking his excitement to social media, Bleu had the following to say to let everyone know "the G.O.A.T." has jumped on his beat and his price will now be going up to at least $50k:
"Man Lil Wayne, the goat just hopped on my F*CKING beat it's overrr ! Yesterday's price is not today price I been making beats for a week. ! Kodak now WAYNE PRODUCED BY : Moon Boy "

"N*GGAS AND GENTLEMEN LIL F*CKING WAYNE JUST DID A WHOLE SONG TO ONE OF MY BEATS WTFFFFFFF @moonboyhitz MAN F*CK THAT YESTERDAY PRICE NOT TODAY PRICE YOU N*GGAS CANT TELL ME SH*T NOW ION WAnnA HEAR NUN OF DAT SH*T BOI 2022 I'm fenna be a dangerous azz n*gga mane"

"TO ALL YALL N*GGAS WHO WAS TALKIN SH*ITTT ! LIL WAYNE PLACEMENT !!!! I want 50 should got it's when it was cheap yesterday price not Today price what ya say @fatjoe @moonboyhitz"
You can check out the Alabama music artist plus producer's tweet and Instagram posts after the jump below! Are you looking forward to hearing what Wayne recorded over his beat?
Man Lil Wayne, the goat ? just hopped on my F*CKING beat it's overrr ! Yesterday's price is not today price I been making beats for a week. ! Kodak now WAYNE ??? PRODUCED BY : Moon Boy ? pic.twitter.com/8XOsMymKna

— BLEU (@_YungBleu) December 28, 2021