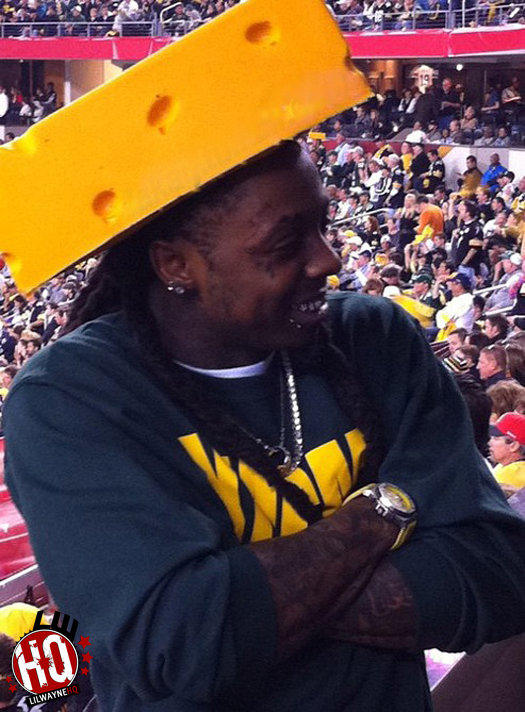 Earlier this week, Lil Wayne was the special guest on Eli and Peyton Manning's ESPN "Manningcast" show during the Monday Night Football game between Green Bay Packers vs. Los Angeles Rams.
While on the broadcast, Weezy recalled telling his friends in school about the "cheese people" referring to the Packers, discussed what he was feeling in the picture above, and explained our favorite question – how he became a Packers fan when he is from New Orleans.
Tunechi also watched and rated a rap from Eli Manning over a New York Giants remix of Fivio Foreign's "1 On 3" by saying he "killed it". The former American football quarterback for the New York Giants revealed that Tune's "A Milli", "Fireman" and "Stuntin' Like My Daddy" inspired his performance!
Lil Wayne: "First of all, Eli, when I saw that, I just saw a picture of that first. When I saw the picture, I was like: 'wait, is this how Eli really dress in his off time for real?' I didn't know what was going on. I saw the Cuban around your neck. I'm glad I actually saw a video of what that was all about. But you killed it. You killed it. Yeah, you killed that… somebody ended up sending me a full-body picture of it [the outfit] and then I saw that you had on some khakis or something. That's when I knew this must be a spoof or something."

Eli Manning: "I wasn't watching a lot of Lil Wayne, but I was listening to him. I was listening to 'A Milli', I was listening to 'Fireman', I was listening to 'Stuntin' Like My Daddy' – that''s my personal favorite."