In part three of CMB in LA, Birdman flies to the Grammys to watch Lil Wayne perform with Eminem, Travis Barker and Drake and then like always, goes shopping. Jay Sean also performs "I Made It" with Kevin Rudolf at a Paramount Studios' Grammy party. Shouts to Derick G, and I'm really looking forward to the behind the scenes for Lil Wayne's "Drop The World" music video which Derick said is coming soon!
Previous: Cash Money In LA [Part 2]
Hit the jump to see what Lil Wayne's second week sales are for his Rebirth album, and to read about a possible collaboration with Jay-Z for charity: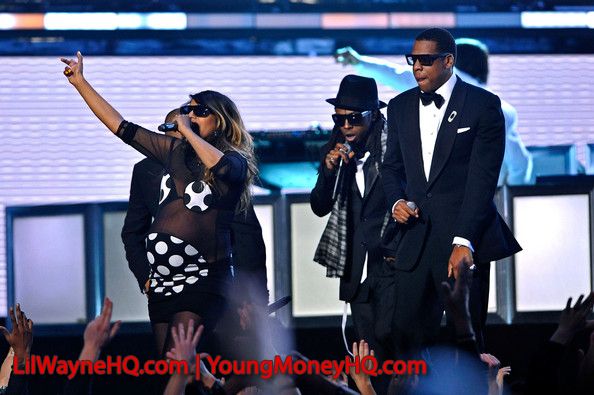 On the German MTV website, it says that Jay-Z fancies to do a compilation with Lil Wayne for a charity song as he didn't want to 'touch' the "We Are The World" remake. Shouts to Armin and this is what Jay said:
Gab aber zur Überraschung aller bekannt, dass er sich mit Lil Wayne einen weiteren Charity Song vorstellen könnte: Es soll ein Remix von "Stranded" sein und in ihm werden die Stimmen von Rihanna, Bono und The Ed…ge von U2 nur indirekt vorkommen und nicht so, wie sie bei der "Hope For Haiti Now".
In English, this basically means:
To everyone's surprise, Jay could fancy a compilation with Lil Wayne for another Charity song. It should be a remix of "Stranded" and in it the voices of Rihanna, Bono and The Edge from U2 will occur only indirectly, and not so as they were presented at the "Hope For Haiti Now" show.
Lil Wayne finds himself perched comfortably at No. 4 with an additional 89,400 units of his rock album, Rebirth. In just two weeks, the experimental album has tallied up 265,366 in sales for the soon to be incarcerated rap star – XXL