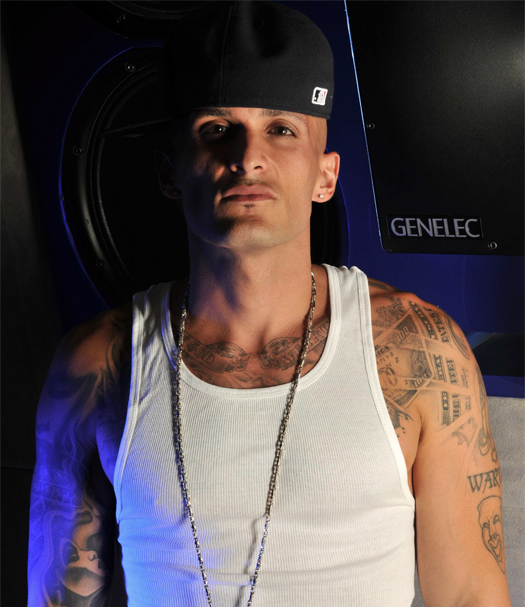 Below is an exclusive interview LilWayneHQ.com held with Grammy Award Winning producer STREETRUNNER. In the interview STREETRUNNER speaks on how he got into the music industry, working with Lil Wayne, Tha Carter IV, and much more. STREETRUNNER (Real name: Nicholas Warwar) is signed with EMI Music Publishing and is represented by Spliffington Management.
LilWayneHQ.com: Tell us about yourself STREETRUNNER? How long have you been producing for, and what made you get into this career?
STREETRUNNER: I been making beats since 1998. I started out a DJ until I got a EMU sp1200 and then that pretty much ended my DJ career. I rocked on the sp1200 for about a year and then graduated to a akai mpc 2000xl. I landed my first major placement in 2003 with Fat Joe's Terror Sqaud billboard charting single "Take Me Home". I later went onto sign with Terror Squad for a year and continued to grind it out and get placements. I have placed tracks on artist albums such as Fat Joe, Juelz Santana, Lil Wayne, Ludacris, LL Cool J, Slaughter House, Birdman, Fabolous and many more.
LWHQ: Name some of the songs you have done for Lil Wayne that we have probably heard, but not know you produced them?
SR: Shit… I got a gang of tracks that leaked during Tha Carter 3 leaks. "Talk It Over", "1 Night Only", "Trouble", "Rapapompom" F/ Junior Reid, "Do It Again", "Young Money Cash Money" F/ Brisco, "Pray To The Lord", "1 Arm" F/ Juelz Santana (I Can't Feel My Face leak), "Yeah" (Rebirth leak) and I'm sure a few that I don't even know about. I did land "Gossip" on Tha Leak EP and also on the deluxe edition of Tha Carter 3. I produced "Playin With Fire" on Tha Carter 3 and I also co-produced "Ground Zero" with Infamous on "Rebirth". I got a few tracks on hold for Tha Carter 4 so there is much more to come.
LWHQ: How did you get in contact with Lil Wayne, and have you ever been in the studio with him? What was that experience like if so?
SR: The first time I met Weezy was when I was working on Fat Joe's album Me, Myself and I. Macho and my dude Safe were chillin' with me at the Hit Factory parking lot waiting for Joe, and Wayne came out and Macho introduced me. Lucky for me my dude Safe had one of my beat CDs in his car and I was able to pass it to him. Within a hour of passing him the beat CD my manager got a call that Wayne wanted two beats from the CD for Tha Carter 3. Later that night I went up to Weezy's studio session with Joe and he played us the records he made on my two tracks and Joe went nuts. I was like damn I just passed you this CD… I knew at that point we were going to make a lot of music in the future. The next day I went back to Hit Factory and hit him wit another ten beats. I haven't stopped hitting him with heat since. I actually worked on one record with Junior Reid and Lil Wayne in the studio. Wayne just circled the room a few times while the beat was playin' and then jumped in the booth and put his verses down. I also been in the studio several times with him to vibe on tracks or hear new music he's made on my tracks. He's real cool and down to earth dude…
LWHQ: You got awarded a GRAMMY for Lil Wayne's Tha Carter III album, for a track you produced on there called "Playin' With Fire". How did that feel?
SR: That was nuts! I definitely wasn't thinking Grammy while I was working on the C3 project. It was crazy that the album went platinum in a week to me but when it became a Grammy award winning album, shit got real.
LWHQ: Did you do any work on Weezy's previous rock album, Rebirth?
SR: I did four records that I know of for Rebirth. A record I co-produced with Infamous called "Ground Zero" made it on the album. I also co-produced another record with Infamous but due to lyrical content it could not be on the that album, but might make a different album. I also co-produced a record with Blackout Movement that never made the album but was a monster, and a record I did solo called "Yeah" that leaked.
LWHQ: Do you have, or are you working on any new projects that we should be looking out for?
SR: I'm working on my first artist on Run The Streets named AdELA. She's a female R&B/Pop/Hip Hop artist from Miami by way of Africa. The single we are pushing now is titled "Just Feel It" and is featuring Lil Wayne. I also have placements coming out this year on The Game RED album, Twista, Juelz Santana, Fat Joe, Jamie Foxx, Lil Waynes Carter 4 and a few others.
LWHQ: We heard you did a 'crazy' track for Lil Wayne's Tha Carter IV album? Tell us about that… what's the sound like, could it be a single, features, autotune etc?
SR: I did a really dope joint for the ladies with a soulful sample track that has a feature on the hook. I don't want to go into to many details about the record cause some internet monster might find it and try to leak it. I got another record that my dude wrote the hook on that almost feels like a Jay Z "What More Can I Say" type track. I think I got 1 other record that's pending along with those two so I just gotta see what's up. I will say Weezy is spitting that shit over my tracks and they are 100% Hip Hop.
LWHQ: Have you heard any other material from Tha Carter IV? Or who Wayne has collaborated with on there?
SR: I heard a few joints… It's definitely what the fans want. He's just rapping and going hard on it. I think I heard maybe one rocked out track but the majority was rap/Hip Hop tracks. It should be another classic.
LWHQ: Do you know what sound style Wayne has used on the whole album (Tha Carter II, Tha Carter III, Rebirth, soulful, dark etc)?, and you think we will be getting the first single this Summer?
SR: Its a well rounded album… I'm not sure what their plans are for the album as far as releasing singles. I heard they want to try to drop C4 close to his release from prison. All the tracks I heard were going hard. Some soul, some south, some dark and a lil rock…
LWHQ: Lil Wayne has said Tha Carter IV will be released as soon as he gets out of jail… do you think Wayne will re-do the whole album when he gets out, and do you think the album will sell more copies than Tha Carter III did?
SR: I really don't know how he's going to feel after serving his sentence. It would definitely be dope if they dropped on the day of or near the day of his release, but that's my opinion. Wayne and his team are going to do what they wanna do so we all just have to wait and see what happens. As for album sales, what C3 did in its first week was amazing, that might be a one time thing but you never know.
LWHQ: Have you worked with anyone from Young Money Entertainment or Cash Money Records?
SR: I produced a record on the 5 Star Stunna album that Birdman put out the record was called "Grind" F/ Lil Wayne and Brisco. I've also done records w Jae Millz and Gudda Gudda that have not released yet
LWHQ: Who would you like to work with from Young Money and Cash Money that you have not worked with so far?
SR: I was tryin' hard at the top of the year to get a record on Drakes album and came really close but no luck. He's maybe the main dude would like to produce a record for on a album.
LWHQ: Which other music artists in the game right now would love to collaborate with?
SR: T.I. Is at the top of my list, but also Jay Z and Andre 3000 are right behind him. I also would love to do a record on a Beyonce or Mary J Blige album. I'm on my grind steady though so it's all very possible.
LWHQ: How do you feel about Lil Wayne's prison sentence? And do you think the music game is missing him right now?
SR: I feel like they were tryin' to make a example out of him. So honestly speaking I feel like the prison sentence is bullshit. I know everybody is missing him (fans, friends and family). I definitely miss the dude… He's motivational for me and my music.
LWHQ: Any last words, websites or shouts outs you would like to leave the readers with?
SR: Check out my artist AdELA… Her new single "Just Feel It" that I produced available now on iTunes. You can also follow both of us on twitter @adelamusic and @SRbeats. Shout outs to Spliffington Management my team ILO, Rugah Rahj, Infamous, Blackout Movement, Smash, Big Mike and High Capacity Management. Be on the look out for more SR heat soon!
LWHQ: Thanks for your time STREETRUNNER, we appreciate you giving us this interview. Everybody at LilWayneHQ.com would like to wish you the best of luck in the future.