"Tha Carter IV plans we had and still have are to put Tha Carter IV out the day he comes out of prison," Mack said Thursday in New York. "He had so many songs for Tha Carter IV, we said let's just put these 10 songs out on I Am Not a Human Being and double-back for Tha Carter IV. He has more songs for Tha Carter IV that are still strong."

"It's basically me, him, Baby and Cortez Bryant mapping it out," Mack explained. "We had a listening session out here. It was me, Baby and Cortez. I let Wayne know these are the ones we picked. He already picked six of them from back there. I let him hear it over the phone. I book him a studio session — kinda like I did for the 'Light Up' up remix with Drake. I book him a studio session and let him listen to tracks over the phone. 'Do you like this one?' 'Yeah?' "

"We might just drop the album that day," Mack said of C4. "Just hope it don't leak out and drop it that day. I think it would be crazy, the anticipation."

"That's where we are aiming for now," Mack explained. "I think the Madison Square Garden would be perfect. I wanna keep it Young Money. I think we can hold our own. As far as his set, it would be nice to have features and cameos on his set. As far as who opens for him, it'll be a no-brainer, Young Money could hold it down. Just have the big features on Wayne's set. He's gonna have a show, then go to the studio. I just had a birthday recently. I had four parties for my birthday. For him, it's no telling how that week would go, how that month would go. Five months would go. We're gonna party like when Frank came home in 'King of New York.' We're gonna go crazy." – MTV
So according to the Young Money President, Mack Maine, we might be getting Weezy's Tha Carter IV album on the day he is released from prison which is November 4th 2010! The plans for this album keep changing, because we last heard that Tune was gonna re-do the whole album once he gets out from behind bars. Let us know what you think about this in the comments, I mean could we really get C4 on Nov 4th and then a "Welcome Home Weezy" concert on Nov 5th ❓ Or is it all too good to be true ❓ But one thing is for sure, we are getting the I'm Not A Human Being EP on Wayne's birthday, September 27th.
Hit the jump to read Tunechi's thoughts on the upcoming US Open, which starts next Monday, to Sports Illustrated from a letter which he sent from Rikers Island. Props to TUD!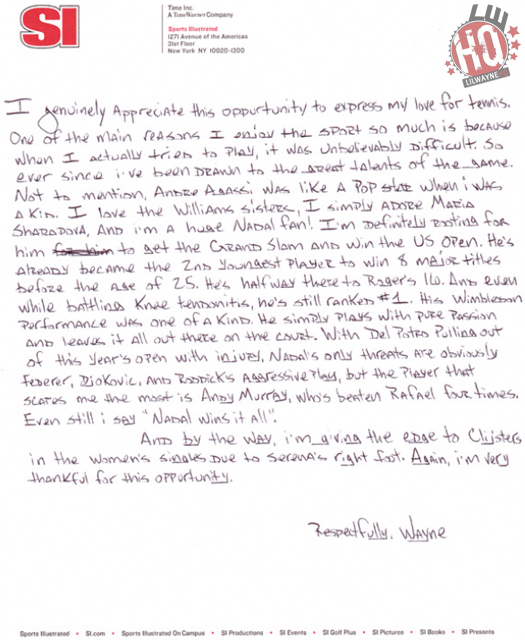 I genuinely appreciate this opportunity to express my love for tennis. One of the main reasons I enjoy the sport so much is because when I actually tried to play, it was unbelievably difficult. So ever since, I've been drawn to the great talents of the game. Not to mention Andre Agassi was like a pop star when I was a kid. I love the Williams sisters. I simply adore Maria Sharadova and I'm a huge [Rafael] Nadal fan! I'm definitely rooting for him to get the Grand slam and win the US Open. He's already became the 2nd youngest player to win 8 major titles before the age of 25. He's halfway there to Roger [Federer's] 16. And even while battling knee tendonitis, he's still ranked #1. His Wimbledon performance was one of a kind. He simply plays with pure passion and leaves it all out there on the court. With [Juan Martín] Del Potro pulling out of this years Open with injury, Nadal's only threats are obviously Federer, Djokovic, and Roddick's aggressive play, but the player that scares me the most is Andy Murray who's beaten Rafael four times. Even still I say "Nadal wins it all."

And by the way, I'm giving the edge to [Kim] Clijsters in the Women's singles due to Serena's right foot. Again, I'm very thankful for this opportunity.

Respectfully, Wayne
Do we have any Tennis fans who are on LWHQ ❓ If so, let us know if you agree with what Wayne said in the comments below.