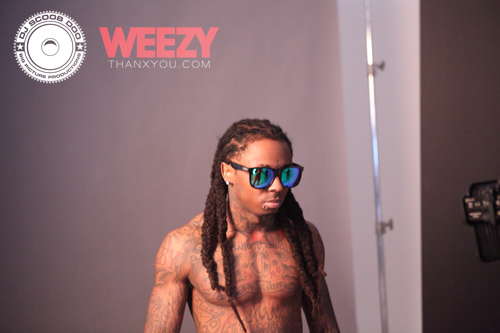 Tunechi left a message earlier on WTY talking about his performance on Saturday Night Live and his upcoming Rolling Stone cover. Weezy also thanks us the fans for making his C4 single, "6 Foot, 7 Foot", #1 on the iTunes charts.
Hello World & Fellow Martians! I hope you enjoyed my Saturday Night Live performance. I can't describe what it felt like being back in my element. I wanted to share some behind the scenes photos from my Rolling Stone photo shoot. The shoot was in Miami two weeks ago and just being able to do this type of stuff again is therapeutic. Be sure to pick up the issue when it hits stands. Thank you to the people at Rolling Stone for the opportunity.

PS: Thank you for making 6 foot 7 foot #1 on itunes, you will continue to be #1 in my heart.
In other news, we can be looking forward to Lil Wayne and his Young Money fam performing at BET's 106 & Park New Year's Eve Special, and being featured on Chris Brown's upcoming "Look At Me Now" single, also featuring Busta Rhymes.