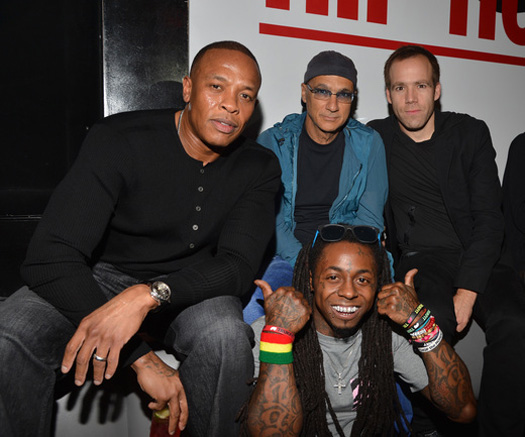 Carrying on with his MTV interview, which took place last week in Las Vegas, Lil Wayne reveals that he has recorded nearly 100 songs with Dr. Dre throughout his music career.
We already know that Weezy and Dre have been in the studio working together after Wayne first mentioned it on Drake's "Ransom" song: "Me and Drizzy both wrote on Detox", but I'm pretty sure none of us knew that they had this many unreleased records!
You can watch a video after the jump of Tunechi talking about working with Dr. Dre and collaborating with him to drop his own Tunechi Beats By Dre Pro headphones line.
"I've always worked with Dre. I'm not sure if you guys know how Dre works, Dre always send you a song, so I done probably did like 90 songs for Dre. You just never know which one he gonna put out."

"I'll always be up to work with Dre, it's always cool with him. As far as the headphones, I'm super-excited about that collaboration, I couldn't be more excited."