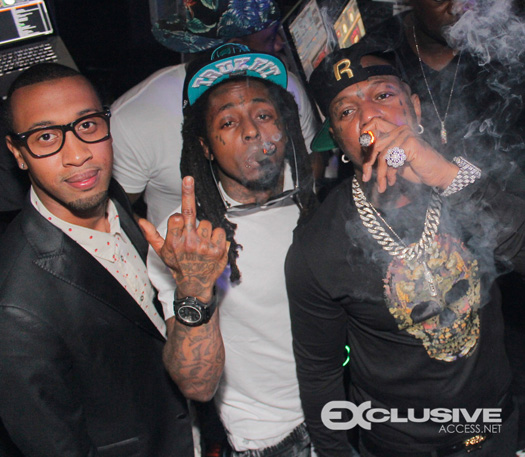 Lil Wayne's best friend and manager Cortez Bryant had a quick Q&A session on Twitter earlier this morning were he let fans ask him some questions.
A few of the things that we learned from this Q&A session is that Weezy's "Gone Till November" book is still being finished, Tha Carter V will be out before 2015, Devol is finished but they are waiting for the right time to release it, the "We Alright" music video premieres next week, and confirms the Young Money: Rise Of An Empire album will not get pushed back from the March 11th date.
You can read the tweets below!
Real soon! RT @koolkid172p: @CortezBryant when will wayne drop a solo hit or album

Soon! Finishing it up! RT @ItsVictorChavez: @CortezBryant Tez when will Wayne's book #GoneTillNovember be available???

Weezy Wednesdays! RT @Iam_LiLd: @CortezBryant R WE GONNA GET ANYMORE DVDS OR FOOTAGE OF @LilTunechi LIKE THE #NINOBROWNSTORIES ?

Wait for it….Coming Soon! RT @CJNeverstops: @CortezBryant how much longer for Tha Carter V?

Crazy! RT @dizzledaprince: @CortezBryant How's that new album rise of an empire coming along?

Nope March 11th RT @AlliZghoul93: @CortezBryant will #RiseOfAnEmpire get pushed back????

Yep! Mixtape Album and 3 incredible songs on YM Album RT @Simply_MsTy: @CortezBryant are we getting any new music from @LilTwist this year?

Still have it Will drop it at the right time RT @sunnynaahmean: @CortezBryant whatever happened to the album devol?

Next week! RT @AlliZghoul93: @CortezBryant when will "We Alright" Video drop???

Soon RT @mjoumaa1: @CortezBryant is lil wayne making a new tour?

Yes it'll be after the album RT @FigureOfMe: @CortezBryant dont wayne need an album out for a tour lol?

I agree Have to make that happen! RT @KJAlbert: @CortezBryant when is G-Eazy gonna get on a track with wayne? Or maybe drake! That'd be fire

Promise RT @CoreyEspo2430: @CortezBryant can you promise the c5 will be out by 2015?