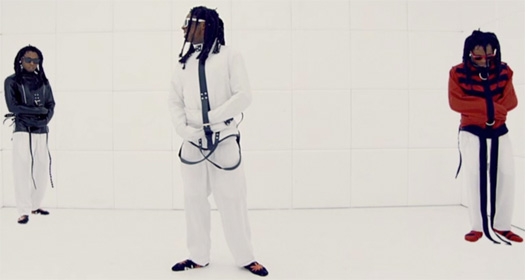 Music video director Colin Tilley recently chopped it up with XXL about directing Lil Wayne's "Krazy", Young Money's "Senile", DJ Khaled's "No New Friends", and Chris Brown's "Look At Me Now" visuals.
In the interview,, Colin explained how he came up with the idea to put Tunechi in a white family for the "Senile" video, as well as remembered how Tune shocked every one on set of the "No New Friends" video when he walked out of his trailer rocking a XXL tall tee during a mid-tape right before his verse began.
You can read what Colin Tilley said about the four Weezy F Baby music videos after the jump below. Click here to read what he said about shooting Nicki Minaj's "Anaconda" and "The Boys" visuals!
Krazy:

So what happened was they recorded this song. It was called "Krazy." I feel like anyone else would have gone to some deep, dark hole and shot it and made super dark, which you would imagine with a song called "Krazy." I wanted to do something different, and One Flew Over The Cuckoo's Nest is one of my favorite movies. "You know what? Fuck that."

Basically, just giving Lil Wayne a character to play. "No Worries" made him Johnny Depp from Fear And Loathing In Las Vegas. And this one, let's go Fear And Loathing all the way with it. I threw him into a mental hospital and Wayne is really good at that stuff. You put him in these scenarios and put him with all these crazy extras. He's able to really thrive off of it and gets excited about it. Whenever he gets in front of the camera, he turns it on a million percent. That one was really fun for me. It was another cool approach. Definitely has a nostalgic feel to it.

Every time we work, it's just so seamless. It's just really good vibes. When we did that final scene, when he's in the electric chair, and the people are around him. The doctor that I cast for it, I didn't know this, but he's actually a preacher too. When we were putting it together, "Yo, that'd be crazy if I had you do some type of weird, witchery speaking to him." "Well, I'm actually a preacher, so if you want, I can go through my different prayers during the thing." I was like, "That was amazing."

Wayne got in the chair and we turned on the music for that third verse. The dude started going through all his preaches. He was actually going twice as long as the actual music playing. We were down in the basement at that point for that scene. It was like end of the night; it was actually kind of scary, hearing this haunting voice going over the music. And Wayne is just like rapping so hard. I remember after the scene, literally everybody was scared as hell. They had the chills and shit. I just looked at Wayne and I could see that he was so pumped. He was like, "Alright, let's do it again." We ended that shoot on the best note ever. It was just one of those experiences where you were like, "Damn, I wish people could hear what was happening in this moment."

Senile:

Tyga has been a great friend all these years. So Tyga hit me up and was like, "Hey, I got this 'Senile' track." I listened to it and I was like, "Whoa, this is sick. I love the style of it." He was like, "Yeah, I'd think it'd be sick to do some really weird shit. We'd love to get some black lights and do some cool shit with this. And I'd like to get the Jabbawockeez in there." I was like, "Alright, dope."

So then I really started sitting down and I really started thinking about it. I don't know what I was inspired by at the time. But I have this book on my coffee table—I'm looking at it right now, actually. The Most Awkward Family Photos. I don't know if you've ever seen these, but they're so funny. Literally, there'll be a family dressed in all jeans from head to toe. Just like the funniest looking family photos. I was sitting there and I was listening to Wayne's verse and Wayne just killed his shit. It would be so funny to put Wayne in one of these family photos, but have him just completely contrast the family 'cause it's Wayne. And it's this super quirky white family. But have them all color-coordinated as far as what they are wearing and shit.

So I just got super hyped off the image. I photoshopped that image just to see what it looked like. And I actually put that in the treatment to really see the whole vision of it. I feel like if you tried to explain that fully over the phone, it's not really going to work. That was the first image that I came up with. I was actually working on another video with Wayne at the time and I showed him the image for it. He was like, "Oh my God. That's amazing. We gotta do that." I was like, "This is where we're gonna take it."

So Nicki, I wanted to have her dressed like a chola and put her in this weird ass playground with other gangbangers and shit. But I want to have them in awkward settings. Let's have him jump roping. You just put them in these situations where naturally it's something funny or something super awkward is gonna happen.

I think the video overall is cool. I was experimenting with a certain style of photography. I laid everything really flat. I barely moved the camera because I was just experimenting with these awkward frames and these awkward scenarios. Trying to make it like a weird TV show. Like, a weird Wes Anderson movie or something. I'm always experimenting with a different style. Overall, I'm just happy with how it came out as far as what I was going for. That's the thing—every video I try and go for a different technique. Just to keep it exciting for me but to keep everybody else on their toes. So people are excited to still see my videos.

No New Friends:

That shit was so fun. Obviously, I loved the song. I'd never worked with Drake either so that was really cool. Overall, I actually went out there with a completely different idea to Miami. And I got to Miami and like two days before the shoot, Drake calls me. He was like, "Yo, man. So I'm thinking about it. I think we should do something completely different than what you have here." I was like, "Alright, what are you thinking?" He said, "I just feel like we should do something like we're in a classic '90s video. Like, Biggie with Ross and go classic Wayne with Wayne." He wanted to go classic Nas. And just like go there with it. So it's like, "Alright." So we started throwing around ideas, using older beta cams and playing with those older handy cams. Just trying to get this weird feel to it.

So I had to literally scramble, but I actually liked that idea. Something about it. "Yo, we gotta do that." It's gonna be what people send to their friends like, "Holy shit, Wayne looking like his original Hot Boys." We found this big ass mansion in Miami and went there and threw a party. Just saw it with a beta cam and I actually did both beta cams and grain, just so I could have a cool effect from being able to switch to that reality.

My favorite scene is literally where they had this yellow helicopter in the field and we had everybody out there. I remember Wayne hadn't come out of his trailer yet. We started shooting before he came out. It's fucking Baby, it's Drake. Ross. Khaled. Everybody is dressed from head to toe in the sickest fits. I remember Wayne walked out mid-take right before his verse came on. Everybody was kind of just like, "Oh, shit!" He had the XXL tall tee. He just really went all the way in with it. It was just one of those moments where it was just so much fun to capture. It was a real fun video.

Look At Me Now:

I remember I was in Hawaii when I got sent that song. I just heard it and I was like, "Oh my God. This is about to be a monster hit." And I never worked with Weezy before or nothing like that yet, so I was stoked. I had to make this one really, really big. I remember when Chris sent it over, he was like, "Yo, I kind of want to do something a little bit retro with it." I was like, "Alright cool." Literally, I just came up with this whole concept of this fun underworld where people are wearing throwback jerseys and switch dance routines, wearing graffiti all over. This sick underground environment where you look at it from an outside perspective and you want to be there.

At that point too, I was really obsessed with taking these gritty environments, like an old warehouse or something like that, and turning it into a special, magical world. It was about bringing in this old school DeLorean there. And have Wayne rapping in front of it, but there's also a metal gymnasium right next to him. Wheels flying by. There's people with skateboards and bikes. It's all the stuff I love. I grew up skateboarding. I grew up around extreme shit, so it was something that I wanted to be able to portray in a video. To me, this is like the dopest song ever right now. I want to bring everything that inspires me through this video.

In the place that we were shooting, actually, I found these old hospital beds. There's this big magnifying glass on one of the hospital beds and I took it and I started looking through it. I'm like, "Yo, it would be crazy if Busta raps into one of these." I'd never really met Busta yet either. So I'm kinda nervous like, "Hey, man. Take this and start rapping through it." He took it and he loved the idea of it and he killed it.

To me, that beat just had so much crazy energy. Obviously, I'm going to have the camera flying around and I want to do these huge techno moves. But also within that frame, I want to have so much going on. All this movement. We have people running up and down the stairs. Funny formations. It's the type of thing where you always want to be looking and, "Lets find something else that's moving." Whatever it is; motorcycles spinning out or people doing headspins or whatever it is. But every frame had to be crammed full of energy in order to portray that feel.
Via XXL