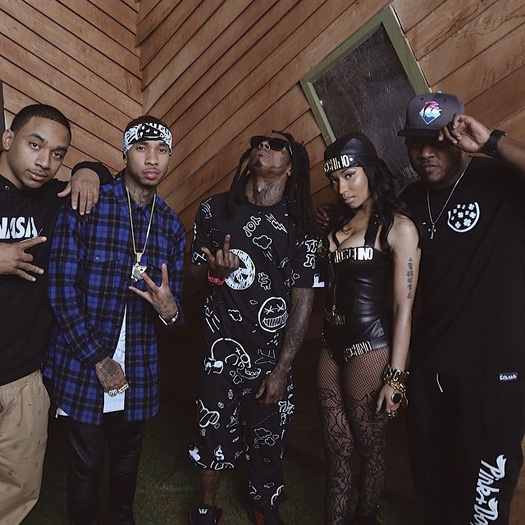 Tyga is on the front cover of VIBE's magazine latest issue and for the cover story, the ex Young Money rapper gave praise to Lil Wayne, as well as explained that he never really got along with his former label-mates Drake and Nicki Minaj.
In the interview that you can read below, Tygaman speaks on getting inspired from being around Weezy F Baby, as well as always remembering Weezy's journey to greatness as he watched him record Tha Carter III.
T-Raww also mentioned that he is trying to go independent and leave Young Money Entertainment, because he feels he has different personalities to everyone else on the label and wants to grow as an artist at a different place. He also says that he believes Drizzy is "fake" and that he doesn't "really get along" with Nicki.
It's gotta be surreal having someone with such an expansive playbook coaching you.
I think I've always been inspired by Kanye West, Jay Z, Eminem and Wayne. I know how Wayne works. I've been around him since I was 17. I always was around Wayne like when he was recording Tha Carter III, so I saw his journey from when he was great, and when he became greatness in the eyes of the world. I took a lot of notes from that. So now just to see another artist [West] that's considered one of the greatest and how he does things, it's two different worlds. I don't know how to really describe it. I get inspired being around Wayne, I get inspired being around 'Ye. At the end of the day it's about finding what you're great at. That's my main thing.

Is Young Money a part of the creative process on this album?
Nah. I tend to distance myself from them.

Are you trying to break out on your own?
Yeah, I'm tryna' go independent. I don't really get along with Drake. I don't really get along with Nicki.

Why?
I don't like Drake as a person. He's just fake to me. I like his music; you know what I'm saying? I think his music is good, but we're all different people. We were forced together and it was kinda' like we were forcing relationships together. It is what it is. But I been friends with Chris Brown for like six years. That's my real genuine friend. We hang out all the time. He lives up the street from me, so we don't just do music we hang. I think being signed to Young Money, everybody felt like they had to force a relationship cause Wayne put us together. At the end of the day the reason why I signed to Young Money is because of Wayne. Not because of Drake, not because of Nicki. It was because of Wayne and my relationship with him. I try to be cool with everybody, but sometimes, everybody just has different personalities, motives, and different characters. When you realize that, you realize that's not a place where you want to continue to grow.