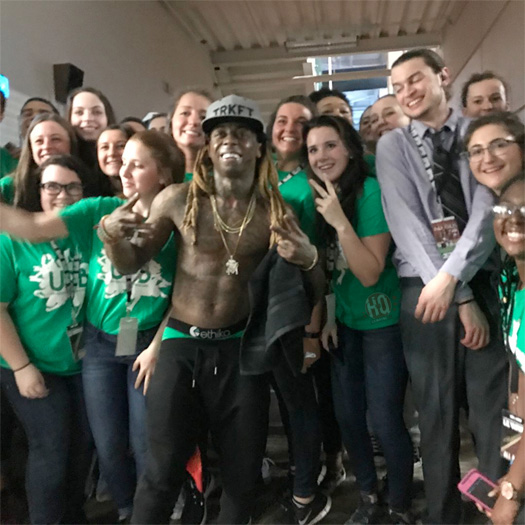 Since the end of 2016, Lil Wayne has basically been hinting and his people have been confirming that he will be signing a deal with Jay Z and Roc Nation after he leaves Cash Money Records.
Now during a concert at the Slippery Rock University of Pennsylvania in Butler County on April 10th, Wayne revealed once again that he is a member of the ROC team before throwing up the ROC hand sign.
I wasn't going to post this clip (see below) straight away as I will be posting footage from all of the "Kampus Krash Tour" shows once it ends tonight, but so many people have hit me up asking me to post it like it's new news even though Weezy has been saying he has signed to the ROC numerous times in the past and at every show.
However, for whatever reason Tunechi is not ready to announce the deal yet, so we will have to keep being patient for that news to surface. He even says in the video "we'll talk about that later though" after saying "you know I'm a member of that team now". So please don't be shocked if you see Tune say things about being signed to Roc Nation during his live shows as like I mentioned earlier, he has been doing this since 2016.
PS: If you listen to Lil Twist's new mixtape Young Carter, you can hear him rap "Cash Money, see you later, hello Roc-A-Fella" on a song titled "Misfits"!