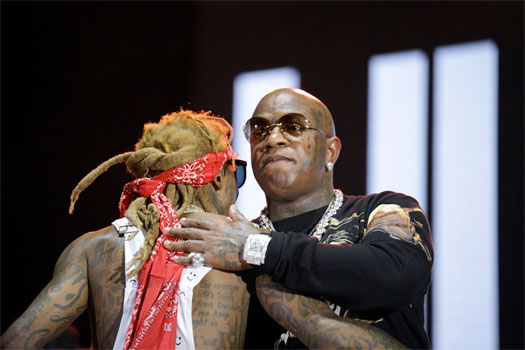 Last night, the 4th annual "Lil Weezyana Fest" took place in Lil Wayne's hometown New Orleans from Champions Square's Bold Sphere Music.
So many things went down at the concert, which I'll get posted on LilWayneHQ soon, but one of the main things (that a lot of people guessed would happen) was Tunechi bringing Birdman out.
Baby came out to perform "Number One Stunna" before then apologizing to Weezy on stage for all of the stuff the two of them have been through since 2014. The #1 Stunna then went into performing "Still Fly" live.
"Damn bruh, it feel it amazing bruh. To be home bruh, fucking with my son, I love that nigga to death. I don't know what y'all know, but I know what I the fuck I know and I know how I feel about what I know. I knew this day was gon' come, but I ain't know when it was gon' come. But this nigga right here, the best nigga, the realest nigga, the illest nigga, and I wanted to apologize to my nigga worldwide to let him know that, ya heard me, that nigga put his life in my hands and I'mma keep it real with that nigga, we gon' do this shit until the day we die. It's YMCMB for death nigga, fuck ya, ya heard me."
You can check out some footage of this after the jump below!
Photo credit: R. Emilien.