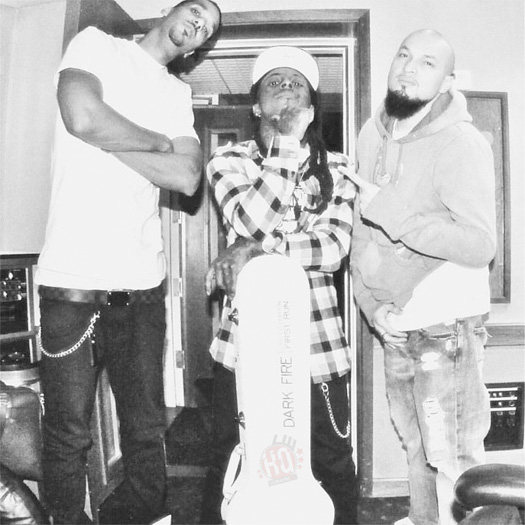 Cool & Dre recently chopped it up with DJ Booth over the phone to share stories behind some of their biggest songs that they have produced.
One of these tracks that the production duo named as one of the biggest in their catalogue is Lil Wayne's "Phone Home" off his Tha Carter III album.
You can check out Cool & Dre reveal how "Phone Home" came about, which was during a recording session for DJ Khaled's "We Takin' Over" single, below.
The Miami producers also explain that the idea and start of Tunechi's Rebirth album came after creating this C3 song with Tune!
Dre: We were working at an L.A. studio at the time. Wayne had bodied this freestyle of JAY-Z's "Show Me What You Got." In the middle of the song, he says, "We are not the same, I am a martian." That shit just stuck in the brain. Legendary.

Cool and I, we wanted to make a record that felt out of this world. We're huge fans of OutKast. All their production is crazy, but on their ATLiens album, they brought home that whole extraterrestrial feeling. So, for "Phone Home," we worked with our man Eddie [Montilla] on the keys to create a crazy-ass intro to the song. It was like he was landing on Earth. I laid the hook, "Phone home, Weezy." One of the assistants at the studio, this girl, we had her come in to say some shit at the beginning.

Wayne was working at the Hit Factory at the time. The day we dropped him off that record, he was cutting his verse for the DJ Khaled record "We Takin Over."

I'll never forget, the next time we saw him, two days later, he said, "Yo, I heard the beat man. I'm going crazy. Get ready." Once we got the vocals back and everything, we were like, oh my God.

The funny story is, Tha Carter III album was humongous and "Phone Home" stuck out like a sore thumb. When I say stuck out, I'm not saying it was better than anything else. It just wasn't "Mrs. Officer" where you can be in the car and catch a vibe to that. "Phone Home" is this loud ass record. I just hoped motherfuckers liked it; it's so different.

For the tour, I remember Slim inviting Cool and me to the show at West Palm. He was like, "Yo, y'all have to come to the show." He opens up the whole set with "Phone Home," and the kids are going crazy. It's the biggest reaction we get from the whole show. So we went out there, and when he did it, the fucking place was nuts.

That's one record that stands out. We got a shit load of records with Lil Wayne, but that one stands out.

Cool: The second [Lil Wayne] heard it, he was like "Oh, I know exactly what I'm going to do with this." It just made sense with everything that was going on in his career. He was tuned in, you can hear it in the verses. There's no area of the verse where he's regular. And it resonated, that record stayed with people.

Dre: Once we did that record, it opened up ideas to do the Rebirth album. Wayne did Saturday Night Live, and he had this band with him. He did "Got Money," and he rocked it out. Us doing the "Phone Home" record gave us a level of comfortability to be like, "Yo, let's do some rock shit, bro." He was like, "My nigga, send it to me." We started flooding him with records like "On Fire" and "Hot Revolver" That's what kicked off the Rebirth rock album.