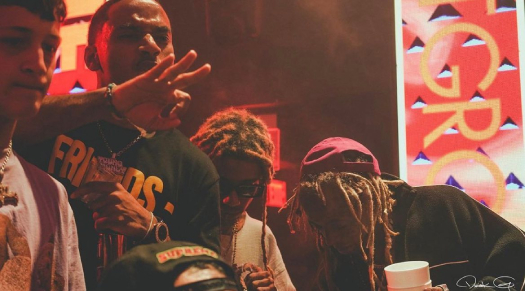 Drizzy P chopped it up with VoyageLA magazine earlier this year for an interview about his career.
The new Young Money signee talked about first meeting Lil Wayne, growing up on Wayne's music, how being in the studio with the boss changed the way he approaches music, wanting to one day be on the same level as Mr. Carter and record verses in one take, work ethic, and more.
Also in their conversation, Drizzy revealed he has recorded "numerous tracks with his idol, the legendary Lil Wayne" that are currently in the vault and how he wants to change Young Mula's "The Big Three" with Weezy, Drake and Nicki Minaj to "The Big Four" to include himself. You can read what P said below!
Hi Dominic "Drizzy P", it's an honor to have you on the platform. Thanks for taking the time to share your story with us – to start maybe you can share some of your backstory with our readers?
My real name is Dominic Peyreferry… I got my name Drizzy from my friends when we were younger, and I put "P" because my last name… Before I started focusing on music, my first passion was actually baseball. My love for music, I'd say, comes from my mother (Nicole). No matter what my mom was doing around the house, she would always have different genres of music playing. She had a massive CD collection. This familiarized me with some of my favorite music legends from the 90s & early 2000s that were out before I was born such as Lil Wayne, Nelly, Eminem, DMX (R.I.P) & 50 Cent, just to name a few. Music grew on me. One of my closest friends received music equipment for a Christmas gift and I found myself spending more time at his house learning how to operate the equipment and making songs. We spent more time in his basement with that equipment than I did playing baseball or spending time with my girlfriend at the time (lol).

Around 2017–2018 is when it started to make sense to me. Around that same time, me and my manager, David Appolon is better known as "Geedy" started working with one another. I met Geedy years ago when he reached out to me about doing a feature with an artist he was managing at the time. We have been locked in ever since.

By my senior year of high school (2020), music became my life. That same year, 2020, my manager Geedy, messaged me about going to Miami to meet Mack Maine, CEO of Young Money Records and Lil Wayne's long-time friend and this is when my life began to change. Geedy introduced me to Mack Maine and in that same year I met my idol "Lil Wayne".

One of the biggest concepts with our label, Above Nothing, is family. Mack embraced us like family from day one. We met Mack at a gym in Miami and played basketball. If you've ever been to a sporting event in Philadelphia or New Orleans then you know it was just a bunch of fun, competitive sports talk. Later that day we went to the Hit Factory Studio and I played some of my unreleased tracks for Mack and his close friend, Joshua Berkman (Senior VP, A&R Republic Records).

A couple of months later, my manager Geedy got a call from Mack saying he wanted to introduce me to Lil Wayne and asked me to come back to Miami to record with Wayne. Being in the studio with Wayne changed the way I approached music and helped me define my style. Wayne's work ethic is just unmatched & literally unexplainable. I went back home & went crazy in the booth. I've recorded about 500 records thus far including numerous tracks with my idol, the legendary Lil Wayne.

Would you say it's been a smooth road, and if not what are some of the biggest challenges you've faced along the way?
I wouldn't say it has been a smooth journey with music, but I definitely appreciate and enjoy the process. Through it all my team keeps me grounded. You also have to keep your faith in God and believe in yourself in a journey such as this. I was frowned upon by some because I chose to put all faith in God and took the music route, giving it my 100% focus, while most of my friends went on to college. It's been tough but the blessings outweigh the tough times and I am thankful for the ones that support me and push me to keep going. Of course, I find myself getting excited at times because everything is new to me, but I also know that we are nowhere near where we want to be, I am just thankful for how far we have come.

Appreciate you sharing that. What else should we know about what you do?
I am a Pop artist from Philadelphia, Pa. I make music for all types of genres. I see myself in the same category as "Drake"… I specialize in making great music. I don't think no one on my level when I'm locked in 100%… I am unstoppable. Music is therapy for me. When I'm locked in the booth/studio I immediately block out the world & just focus on making great music. I am glad to be a part of a team that allows me to be comfortable and stress-free… Geedy & the rest of my team helps me a lot with my creativity. I master the art of recording to the point I don't write none of my music, I just go in the booth and flow my lyrics, my feeling the strings of the beat… I want to one day be on Wayne level where I record in one take. What set me apart is my work ethic & humility. I take advantage of any opportunity that is given to me small or big… I'm most proud of how far we came I remember just being happy for 100 views now I got videos hitting 100k+ On views… I am also proud to be GOD's chosen one by being on the same team as Lil Wayne, Drake and Nicki Minaj… I can see myself being number 4 on Young Money all-time great list in the future, as long as I respect the grind (journey) and continue to listen to my team call.

What would you say have been one of the most important lessons you've learned?
Never stop working, always remain humble and enjoy these moments because you never know when you'll get them same opportunities again… But number 1 thing is thank GOD.
Photo credit: Derick G.