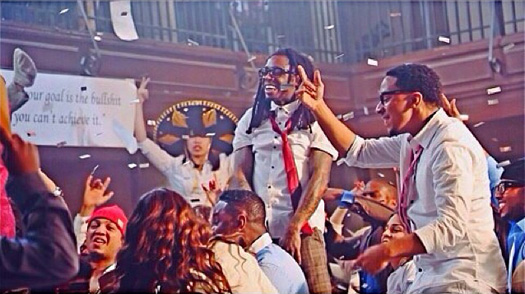 If you didn't already know, Young Money will soon be dropping a new single from their Young Money: Rise Of An Empire album featuring Lil Wayne, Tyga, and Nicki Minaj. The producer of the song, David D.A. Doman, recently spoke to Vibe about producing the track and how it came together.
David Doman says the single, which is titled "Senile", is a "real hard record" that will "kill the clubs". He also mentions that Weezy F Baby is "spitting hard on the verse" and "going crazy on it".
You can read exactly what the producer said about "Senile" and everyone's verses on it below. I can't wait to hear this song!
VIBE: How did things transcend from being producer of your high school to getting into some professional, grade-A kind of work?
David D.A. Doman: It was definitely a gradual transition, and it definitely took a while. At the time in Chicago, there wasn't a real industry like there is now. So I worked with local artists. My first major label placement as a solo producer was with 2 Pistols, it was a song called "Candy Coated Diamonds." But my first singles and hits came with Tyga. I produced "Do My Dance" with Tyga and 2 Chainz, which just went gold. I produced Fabolous' single with 2 Chainz "When I Feel Like It." And now I have this Young Money single about to drop.

The "Senile" track is the big thing circled around you right now. Tell me how they enlisted you to be the producer of the track.
It's an interesting story. Originally, it was going to be a single for Tyga, but when Nicki heard it, she went crazy over it and she's like 'Oh, I need to be on this joint.' And then basically she was like 'Man, we need to put Lil' Wayne on this.' Tyga thought it was a good idea too. And so it just kind of went from being a Tyga single to everybody feeling the record was urgent and that it had to get out there. So they were like 'Tyga's album isn't coming out until summertime, so let's put this out right now as a Young Money single.'

And what was your reaction to that, going from a Tyga single to a Young Money single just like that?
I love working with Tyga, I'll always love getting Tyga singles 'cause i think he's a dope rapper. So obviously Tyga's like a big rapper, but then to have two more big rappers on it, Nicki and Wayne — and Wayne's obviously a legend — is a great honor. It feels real good. The thing that's cool about it the record too is that the beat has a really unique sound to it. It doesn't sound like a typical joint. So I think it's going to get my name out there more as a producer to not just the industry people, but to fans in general.

You tweeted that 'Senile' is a "new sound" and that "everybody came dope." Tell me more about what the record sounds like in comparison to what you or Young Money have done before.
It's is a real hard record. It's definitely gonna kill the clubs, and I think it'll do well on radio. I don't want to give away too much, but it just has kind of like a different sound. It's got some crazy stuff going on in it. Everybody killed their verses. Tyga brought back that low tone that he's famous for from 'Rack City.' Nicki absolutely murdered her verse too, she came really creative on it. Wayne went just totally crazy on the third verse. It's definitely an 'event record.' You know, when you talk to some radio promoters, they'll call certain songs 'event records' because they're so many big names on it, it just becomes an event that the radio has to play.

So Wayne is spitting on this?
Yes. Definitely. Wayne is going crazy on it. Wayne is definitely going crazy on it. The thing that I love about this Wayne verse is — I can't give away who said this, 'cause I don't want to step on anyone's toes — but a certain famous producer heard the record and was like 'Wow, that's a whole new Wayne that I haven't heard before.' Wayne is spitting hard on the verse, but it's still fresh. It's not like this is the Wayne from five years ago, or this is Carter I Wayne. It's real hard, he's really spitting, but its fresh.

Did you get to work in the studio with them, or did you send the beat out?
I worked with Tyga in the studio; I work with him all the time. But I think Tyga brought it over to Nicki's spot, Nicki heard it and loved it, and then they brought it over to Wayne.

Was anyone else from Young Money considered for the track, like Drake or Mack Maine?
That's kind of who we all thought would be best on it. Drake's amazing and Mack Maine is doing his thing, but we just felt like these three were the best fit for the track.

Have you heard any of the rest of the Young Money: Rise Of An Empire album?
I actually have not heard any of the other songs on the album.

It seems you have this great working relationship with Tyga. How did you two originally link up? What is it about you two that works so well together?
Yeah, I've been working with T for a really long time; it's been like five years now. I think we've just always clicked musically. One of the first joints I ever sent him was "Lay You Down," which went on his first album. But we had actually completed that song a couple years before his album came out; Wayne was on that one too. I don't know, it like my sound has changed a lot over the past five years, and his sound has too, but we've just kind of always been in the same zone in terms of the music we're making. He's always vibed with my beats.