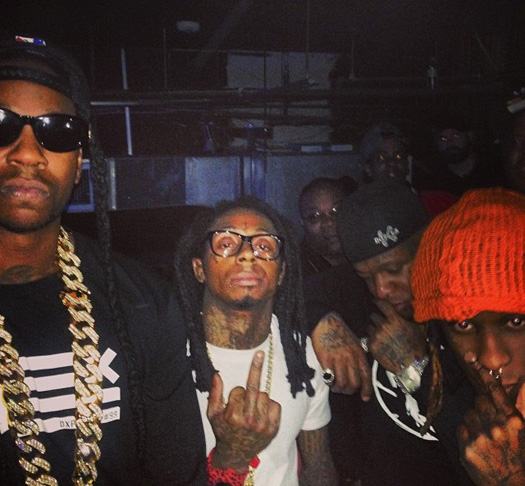 Young Thug appears on the 2014 June/July issue of Complex magazine, which includes a photo shoot of him with Birdman.
For the cover story, Thugger spoke on when he first heard Lil Wayne, what he likes about him so much, trying to sign to Cash Money, calling his debut studio album Tha Carter VI, what he learned from Wayne, and if he will appear on Tha Carter V.
Complex also asked Thug what are his favorite five songs from Weezy F Baby, which are: "Let The Beat Build", "No Problems", "Eat You Alive", "Ms. Parker", and the unreleased "Eww" remix featuring Tune.
You can read the short interview and watch a video after the jump below!
"Are you going to be on Wayne's album?"
"Yes, no, yes."

"So, we'll take that as a maybe?"
"Yes, no, yes. That's my answer."

"When did you first hear Wayne?"
"I don't remember."

"What is it about him you like so much?"
"The ambition."

"Are you trying to sign with Cash Money Records?"
"Yeah."

"Are you really going to call your album Tha Carter VI?"
"Yeah."

"What have you learned from Wayne?"
"A lot."

Can you share anything specific?
"Um… no."
PS: Complex play a blend when Young Thug mentions "No Problems", but I'm guessing it's the song off Young Money The Mixtape Volume 1.