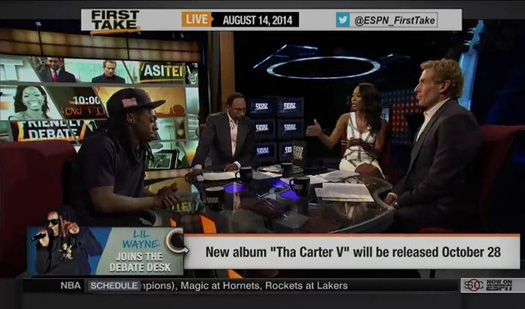 We saw Lil Wayne appear on SportsCenter yesterday, and now here are some clips of him appearing on ESPN's "First Take" show in Connecticut were he chopped it up with Stephen A. Smith, Skip Bayless, and Cari Champion.
While sitting at the roundtable, Tune discussed LeBron James leaving the Miami Heat to return to the Cleveland Cavaliers, what kind of season he thinks the Los Angeles Lakers will have this year, the Toronto Raptors getting fined $25,000 for Drake making comments about Kevin Durant, and explained why he thinks Aaron Rodgers is the best quarterback in the NFL.
You can watch the videos of Weezy F Baby on "First Take" below. Click here to watch Tunechi on the same sports show in Miami back in June!