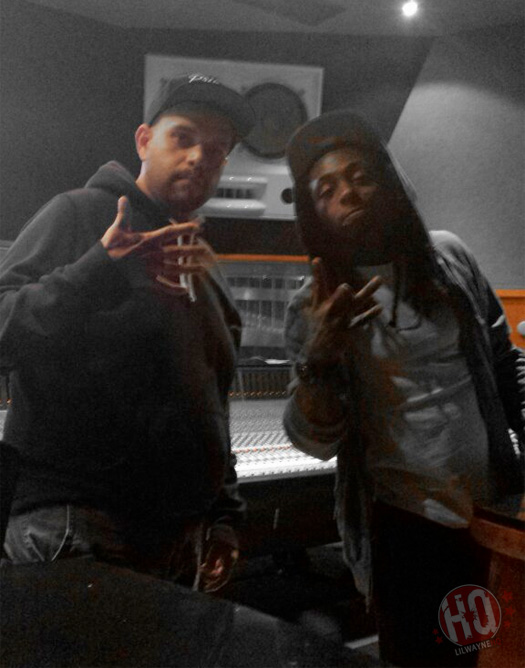 Back in March, ChicpeaJC interviewed Grammy nominated music producer and engineer Angel "Onhel" Aponte about producing for Lil Wayne, working with him in the studio, his work ethic, his creative process, what a studio session is like with Wayne, and more.
During the interview, Onhel mentioned that he worked on the upcoming Weezy and Kendrick Lamar collaboration called "Mona Lisa" that was produced by Infamous, which will appear on Tha Carter V when it can finally be released.
You can check out the conversation between ChicpeaJC and Angel "Onhel" Aponte after the jump below. It's a good read!
What do you do?
I produce and engineer in the music industry.

Tell me about the production side?
I would always make beats for fun… and then Lil Wayne was working on "Like Father, Like Son" with Birdman and I had made a beat… and I played it for him and he took it and they used it on the bonus disc. It's called "Brown Paper Bag"; its Lil Wayne, Swizz Beatz and Birdman.

I was doing sound engineering for Swizz and I took something we recorded and chopped up a hook from him and made a beat out of that… and then played it for Wayne. It all worked out.

I still didn't take it seriously at that point… I guess I was just really comfortable with engineering, but now I am taking it much seriously. I did a record on Lil Wayne's last record "Tha Carter IV" called "President Carter" and now I have another one coming out on the next album which I am really excited about. The song is called "Mona Lisa", hopefully the song stays on the album, I don't want to jinx anything.

So are you always in the studio with Lil Wayne?
Well I am his engineer, so it's between me and this other guy. Lil Wayne works every single day. The day "Sorry 4 The Wait 2" came out, we were working on it until it came out… later on that night we came back to the studio to work on something else.

What does a sound engineer do exactly?
What I would do as an engineer is set up the session, line up the track, make sure the levels and mic are set and I record him to the beat. Make sure everything sounds good.

Can you tell me what goes on in a studio session?
Lil Wayne is the most creative person I've ever met. He will come in and he will tell me to open a beat and he just starts nodding his head… say there is a certain part of the beat or the chorus and I will loop it for him… he walks around, smokes and then goes to the booth and raps his ass off.

He doesn't actually write it? He just freestyles it?
Yeah, he just thinks about it in his head. He doesn't write anything down on paper. Then he will go in the booth and then make changes… his creative process is pretty intensive.

When is Lil Wayne's album coming out?
That is the magic question!

Does he roll with a whole entourage in the studio?
Nothing crazy.

Are their hot chicks dancing everywhere?
I always wonder why people assume that. It makes it hard for me when I date women, they automatically assume their are chicks twerking in the studio. That would be awesome thought haha. Lil Wayne works like he's never made a dollar in his life… that is why when I am off from work it's hard for me not to be in the studio. I am nowhere near to where he is at, so how the hell am I going to sit back and do nothing? The day the mixtape came out, we were in the studio… the day the album comes out, he will be in the studio. He doesn't stop. That work ethic is amazing.