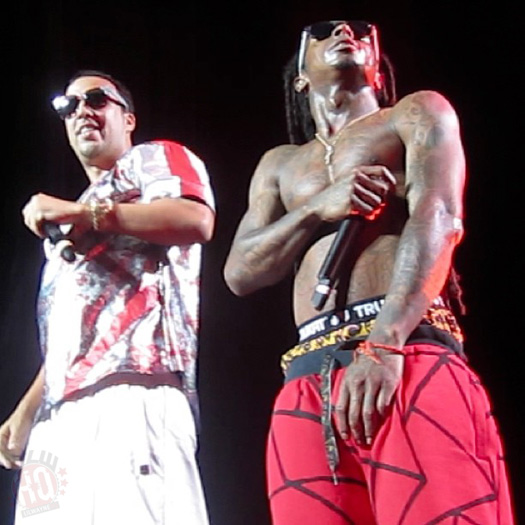 French Montana recently chopped it up with MTV for an interview about his latest mixtape, Casino Life 2: Brown Bag Legend, which includes the song "I Ain't Gonna Lie" featuring Lil Wayne on it.
During the conversation, French mentioned that he thinks Weezy is one "of the biggest artists of our generation" and how he is lucky to have him as a friend.
While talking about the "I Ain't Gonna Lie" collaboration, which Montana revealed it took Tunechi just 20 minutes to record his verse, he also gave away news that himself, Justin Bieber and Tune have a collabo on the upcoming Tha Carter V album.
You can watch French Montana's interview with MTV after the jump below. I would guess that Tha Carter V track he is talking about is "Just Chill"!
"Hands down Lil Wayne is one of the biggest artists of our generation, if not top three. Wayne is always there when you need him, every time I needed Wayne… he been on damn near all my big records from 'Pop That' to 'Marble Floors'. Wayne always comes through."

"I remember I was in the studio and I came by and he was doing a song with me, him and Justin Bieber for 'Tha Carter V'. So after we did that song, I just played him the beat [for 'I Ain't Gonna Lie'] and I already had the hook on there, and he was just like: 'keep that playing!' Then he went and sat down in the corner and wrote the verse, then went right in the booth and spit that joint out. [It took him] about 20 minutes [to do the verse]. No pen, no paper, just sitting there. Wayne is a legend man, the way he do it… he high off music."