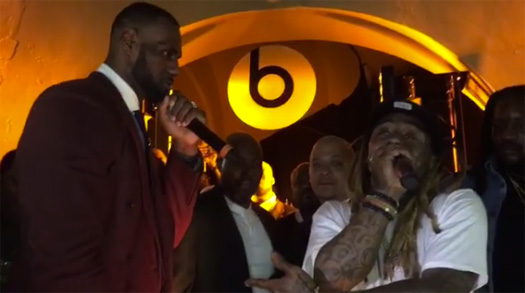 On February 18th, Lil Wayne attended the "Beats x NOLA" event during NBA All-Star Weekend in New Orleans, Louisiana that was hosted by Beats By Dre and LeBron James.
While at the party, Weezy performed live with 2 Chainz, Fat Joe and DJ Khaled. He also reunited with Juvenile, Turk and Mannie Fresh on stage to perform songs like "Bling Bling" and "We On Fire". LeBron even got on the mic to say a few words:
"I don't know if these people fully appreciate what's going on tonight. We got motherfuckin' Hot Boys in this motherfucker right now. I gotta make sure, because this is my party, I gotta make sure that people fully understand what's going on tonight. We got Tunechi, Juvie, Mannie, Turk in here tonight in their backyard in New Orleans. I grew up on these boys right here, I grew up on these boys right here. I had to let y'all know that everything that goes on tonight, you better appreciate the shit, because it may not happen again."
However, it wasn't all good at the start of the show as Tunechi said he wasn't feeling how dead the crowd was and for his manager to not book him for anything else like this in the future:
"I don't know what kind of event they done invited me to, but this look like some kind of ball or something cause y'all ain't moving. Y'all act like y'all got on nice dresses or something, nice shoes. I am the wrong motherfucker to hire for this type of situation, I don't know what they done. I need to talk to my motherfuckin' manager cause I don't know what's going on, they done put me in a R&B situation and I am a real Blood. Anyway ladies and gentlemen, my name is Tunechi, you in my city, I made this motherfucker."
You can check out some clips of Tune from the event after the jump below!