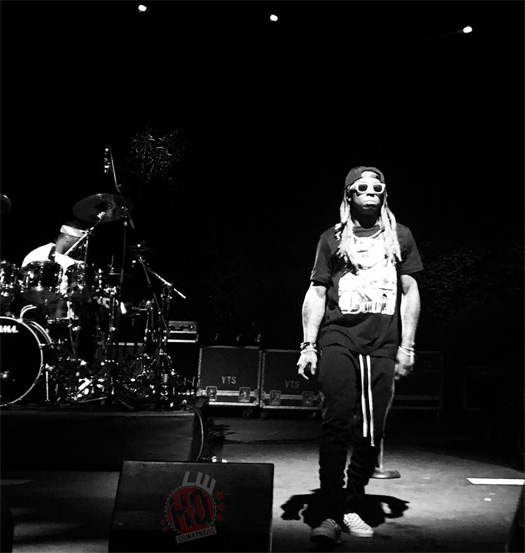 STREETRUNNER recently chopped it up with DJ Booth and broke down a couple of his beats that he produced for Lil Wayne for their "Beat Break" series.
The producer revealed how he created the "Gossip" and "Playing With Fire" instrumentals, as well as spoke on how those songs came about.
Also in the interview, which you can read below, STREETRUNNER discussed being at the GRAMMYs in 2009 when Tunechi won "Best Rap Album" for Tha Carter III, working with Tune, having songs leaked, Weezy performing "Gossip" at the BET Awards, and more!
Gossip:
"First of all, probably one of the most incredible samples ever: Margie Joseph's 'Stop In the Name of Love.' I've sampled it a good three to four times myself. I basically took small pieces that nobody's really messed with before. If you have the vinyl of that song, the interlude before the actual 'Stop In the Name of Love' is where I got all the talking skits from. There was a little sample issue there because I only cleared Margie Joseph's 'Stop In the Name of Love' and didn't realize [the interlude and the song] are two separate pieces of work. They sound like one song on the album.

I basically chopped that up on the MPC 2000XL. I remember real hectic, small, two-second chops that I fired up. I think I split it up between four to eight pads and then I would blaze that sound through the track, through the verse. You can't really hear it as good on the mixed version 'cause, I'll be honest with you, that song wasn't really mixed the way the original two-track was. If you listen to the BET Awards version, Wayne used my two-track. It's just got a very high-energy sound to it. The mix kinda lost that.

I used some brass keys that I actually sampled into the 2000XL. Heart monitor, kicks, drums, snares, tom rolls, 808s; my typical MPC beat during that era [laughs].

Back then, when I would work with Wayne, he would hear the beat and work his lyrics into what the sample is telling him to do. For example, 'Let's Talk It Over,' '1 Night Only,' 'Trouble,' 'Do It Again'—all of these beats had samples and he knew, 'Alright, StreetRunner came with the beat and the topic.' Exactly how the ['Gossip'] beat is, is exactly how I gave it to him. He was able to twist up the concept I had with the sample and make it into a song about what he means to hip-hop. That's why that record was so crazy.

The songs that I talked about—'Trouble,' '1 Night Only'—those all leaked. Those were Carter III contenders. Like, they were on Tha Carter III tracklisting at one point. But the 'Gossip' record never leaked and I couldn't understand why. I think it was September or November of '07, I was in the studio with Mack Maine, Tez [Bryant] and Gee Roberson. I was like, 'Yo, thank God "Gossip" hasn't leaked yet. That song is fire.' And they were like, '"Gossip"? What are you talking about?'

Luckily, the engineer was there and he had Wayne's hard drive. When he was going through it, we realized that 'Gossip' was never bounced. You know how the artist would take a bounce of the copy? That song was recorded in December '06 and forgotten about. Literally, the engineer even said, 'No wonder it hasn't leaked; the session hasn't been opened since December 2006.' He literally had to open the original session up for Tez, Gee and Mack Maine to hear it.

That right there sparked the whole flame for like, 'Yo, this is going to be huge. We're going to mix this, master this and Wayne's going to perform it at the BET Awards.' He did it, and that December it dropped on The Leak EP, and it was later attached to the deluxe edition of Tha Carter III. Someone got to make some moves, man, without getting leaked! [Laughs] I was losing so much music to those damn leaks. It was hot music, too!

I think at one point, ['Gossip'] was considered the lead-off street single for [Tha Carter III]. The thing is, between Cash Money, Tez and Universal, they all knew they had a monster in Wayne and they knew that this whole project was a monster. They never knew exactly the right way to approach it, though. It ended up going off fine, but they would constantly change their mind. Like, the tracklisting for the album would change every week. Eventually, they were like, 'Yo, let's just throw a bunch more songs with this and call it an EP.' It didn't bother me; I wanted something actually out there that was real content, as opposed to just being on a mixtape.

The [BET Awards performance] was amazing because people look back and probably don't even realize this, but everybody who's standing there watching it live in the audience, that's the first time they're hearing that song. It wasn't like Wayne leaked it the week before; it was an exclusive. You'll see people standing up in the audience like, 'What the fuck is happening right now?!' Not for nothing, Wayne ripped that shit down. I'm at the crib watching it on BET and I'm like, 'Yo, this shit is fucking epic!' Just watching certain peoples' faces and shit [laughs].

As a producer, that was probably the best time to work with Wayne. He was really in his bag with his rhymes and was into very dope beats. There wasn't a lot of people in the studio with him at that time either. You'd go check Wayne and it'd be him and the engineer, and maybe like one of his homies like Mack Maine. Tha Carter I and Tha Carter II Wayne was dope as fuck, but the ultra fame and success wasn't there yet. Going into Tha Carter III, he was still trying to craft his sound and kill shit. It was very dope to be able to witness that."

Playing With Fire:
"For this one, I had a piano idea. There was a vocal that I used but I found out that the sample wasn't clearable, so we took a writer and we had him that come up with lyrics that could work. And then Betty Wright re-sang the lyrics and gave it that soulful, haunting feel that makes the record. My mans Infamous, he played the piano on there. There were live guitars, too. I did the drums, the tom rolls, all the arrangements. That was all MPC 2000XL. It was little more of a production for me back then, as opposed to just being on the drum machine and sampling something.

I think this was after 'Gossip' and I was just trying to compete with that. I gave it to Wayne and he didn't hesitate to record to it. He actually did a song to the original sample version. The original had a sample, but I had to get rid of it—that's when I had to do the extra stuff with Betty and Infamous.

['Playing With Fire'] made [Tha Carter III] the day of mastering. It was that song plus two others that made it. It was Wayne's call. If you actually bought a physical copy, the credits for those three songs are behind the CD, like when you lift it up. They couldn't make it into the booklet because it was already pressed. I don't even think those three songs are listed on the back credits until a couple presses later. After the first million sold, they repressed it so it actually said the titles of the three songs on the back of the album.

And just like that, it got removed [laughs]. It was a gift and a curse. It didn't get removed until 2.3 million copies were sold. 2.3 million lucky CDs out there have it. If you go buy that album today, it's gone. Eventually, that shit's going to be something very rare because it's not even allowed digitally on iTunes. They're trying to erase that from the history book [laughs]. Whatever format that exists in, it might be good to keep it around.

[The GRAMMY win] was super dope. I was actually at the GRAMMY awards with Mack Maine when Wayne won that. I honestly thought that he was going to win Album of the Year, but when he took home the Rap Album of the Year, it was all good. That was a once-in-a-lifetime opportunity right there, to be able to witness all that and then to see the growth from there—where Wayne has gone since then, and even Mack Maine and all these guys. I think Drake was up in the cut and now he's a mega superstar.

There was just undeniable chemistry [between me and Wayne]. He always understood my beats. Lyrically, I always knew he was super dope and he was always trying to prove that he was super dope. I always did—and still do—the same thing with my beats, and it just worked."