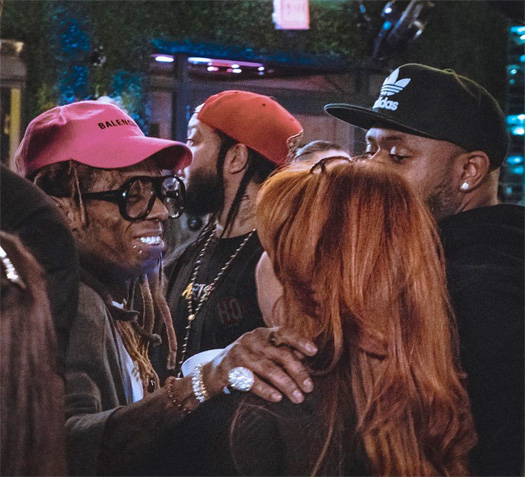 Production coordinator DJ Folk wrote an article for DJ Booth after Lil Wayne's Tha Carter V album was released to talk about his work on the project, as well as how it felt seeing C5 on hold with the Wayne vs. Birdman lawsuit.
In the article, Folk revealed why some of the songs that we have heard snippets for, such as "Life Of Mr. Carter" (prod. P.C.), "Kidnap Cupid" (co-prod. Megaman and Zalezy), and "World On My Shoulders" (prod. BP) did not make Tha Carter V.
DJ Folk also mentioned that he sent Weezy the "Gotti" and "Hittas" beats, which were produced by Jayones, in the same e-mail back in late 2013, so he is glad that he is now a part of the album with A&Ring "Hittas". You can read everything that Folk said below!
It's been a long and winding road since I sent the first batch of beats for Tha Carter V for Lil Wayne back in late 2011, early 2012, but we are finally here.

Last I counted, I submitted well over 300 beats for the album. I was fortunate enough to have Wayne rap on a lot of my submissions. Some you heard via YouTube searching "Carter 5 snippets." Song titles like "World on My Shoulders" (BP my brother!) or "Kidnap Cupid" (Megaman and Zalezy) might have had you curious as to what the final product would sound like. Well, the wait is finally over as Wayne finally liberated the album that has been stuck in legal purgatory for four-plus years.

The first pack of beats I sent Wayne belonged to this kid A.Jayones, from a production team called G-14. I knew Jayones from our days on OnSmash forums and Boxden, and I would often send Jayones samples, telling him how to structure his beats. Out the blue, Mike Banger (Wayne's ex-engineer) reached out to me and requested four-to-six beats, telling me to hold them to the side for C5. From my previous experience with Wayne, you send beats up until the last very minute because tracklists are fluid until its time to turn them in.

I'm always digging for samples, whether I'm inspired by a movie score or sequence, or just randomly searching on YouTube. I came across this record by Fiero, "Pink Droid," which ended up being the inspiration for "Gotti" featuring The Lox. Jayones literally flipped the sample the same day and I sent a three-pack of beats, two of which Wayne ended rapping on, and they asked for the files within a few days.

My brother P.C. sent a beat called "Combo Breaker," which turned into a record called "Life of Mr. Carter." A snippet leaked via a Young Money affiliate, via Instagram story, which put the record in jeopardy of making the final album. They called for the files a week after the Jayones beat sessions. I'm like, "Holy shit, this is really happening…" Then what came next was a series of bad breaks.

October 28, 2014. I'm days away from moving down to the Miami area. I get word Wayne is about to drop Jayones' record "Gotti." Jayones and I get on the phone excited as fuck; this was a long time coming. Wayne had announced an album would be released in December and then, in short order, he dropped Jayones' record, which started a mini-frenzy on Twitter. And then nothing.

Two more records dropped in November, but again, nothing stuck. Then silence.

Finally, on December 4, 2014, my birthday, Wayne took to Twitter to voice his displeasure about Cash Money, which led to four years of warring with words and legal dockets—purgatory.

During the project's purgatory a lot of posturing took place, and as a rap fan, it was disheartening to see Stunna and Wayne at odds. The Cash Money dynasty was self-destructing right before our own eyes. Even with shit at a standstill, though, I continued to send Mack [Maine] beats for Tune, no matter what.

Fast forward three-and-a-half years to June 2018, when the settlement news broke. Immediately, I suspected that the album would be released this fall, and sure enough, I got the call for five songs on the album playlist. The business and paperwork portion of an album release is always chaotic, with label reps scrambling to get everything done on a deadline. That rumored September 21 date was never in play, but the 28th was always a possibility.

All the way up until September 27, the day before the album's release, everything was topsy-turvy. I honestly didn't know which records I A&Red would end up making it until the album was actually out. I went dark social media-wise, but behind-the-scenes, I encouraged all of my producers to stay positive.

In the end, "Hittas," which samples Tasha Baxter's "Journey" and Lil Boosie's "Jealousy," ended up being the one and only record to make the album. This particular Jayones beat, which happens to also be the only song on C5 to feature Drake vocals, was in the same email I sent in late 2013 or 2014 with the "Gotti" beat. Jayones had several other beats in placement contention, but both of us are happy with one. I'm honestly just happy to be part of it.

So, what happens from here? For starters, Wayne is back to dropping new music whenever he wants to. As for Jayones, this is just the start of an exciting career in music. I'm insanely happy for him. Producer Pay Cash, who just missed the final tracklist cut, will also be good in the long run. In disappointment comes even more inspiration to be great.

As for me, I'm actually headed in another direction entirely. Music will always be my passion, but these past two years have been very hard for me personally. If Tha Carter V ends up being my curtain call, hopefully, my success—overachieving to most, but right within the goals I set for myself—inspires the next generation of young A&Rs to stick with the process no matter how long it takes to play out.

Tha Carter V is out, guys. We did it.
Photo credit: Nelson Adrian Banzo.