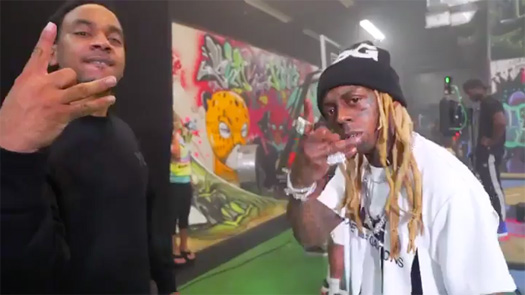 Euro recently chopped it up with Vibe magazine about his latest album, Don't Expect Nothing, and working with his mentor Lil Wayne.
During their conversation, Euro revealed he has set up his own company with his own funding to release new music, but Young Money is still his "family".
The Providence rapper also explained why Tunechi is the only feature on his project with "Talk 2 Me Crazy". You can read exactly what Euro said about Weezy and Young Mula below!
The album went through so many delays. What happened and how did you work through all that mess?
Man, it was a lot. It was mostly the clearances and just getting the situation right because with this music business you have to have your paperwork straight. You can't just make a song and put it out there and think you're going to make money off of it. There's no way. But what happened these last few years was just trying figuring everything out. Everyone knows about Lil Wayne and Birdman situation. I had to take a step back and figure out my situation. [My brother and I] figured it out though. I got my own company, we figured out distribution, and all these clearances. I was doing this with no funding. I didn't have a big label backing me. It took us a minute but we got our paper and our business straight and that's the important thing. Young Money is still family. Whether or not it's together or broken, that's my team and my family. I have my own company but that's the family for life. Period.

Why just have Wayne as the sole feature on the album and what was it like working with him?
I only had him on the album because I felt it was only right. With this being the first project I had to have my mentor on there. Somebody that walked me into this game and been with me every step of the way. I thought it would be a dope moment and working with him is always surreal. I'm just a kid from Providence who's in the studio with Lil Wayne, it's insane. I'm always trying to prove myself to him so that energy is always crazy every time we get in the lab. It's dope.