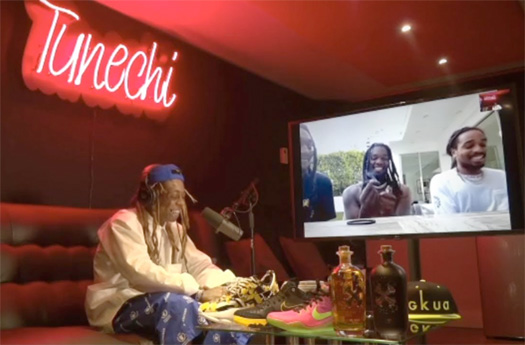 For episode 5 of the "Young Money Radio" show on Apple Music on May 22nd, Lil Wayne chopped it up with YBN Cordae, Skip Bayless, Ludacris, Quavo, Takeoff, Offset, and Mike Tyson. You can watch highlights from their conversations in the videos below.
After paying tribute to his Dedication 2 mixtape for the 14th anniversary, Wayne chatted with Skip about the NFL Draft and "The Last Dance" miniseries on Michael Jordan, as well as with Cordae about sitting in the crowd next to Kobe Bryant at a tennis game. The North Carolina rapper also told Weezy how much of an influence he has been on him and said he will be sending him a song for him to kill.
Mr. Carter then spoke to Ludacris about their new "SOTL" single, why he carries on creating music after accomplishing so much, the formula to being legendary instead of just temporary, and more. Even though we first thought Mike couldn't make it on the show, he appeared last minute to discuss how he used to hang with the Cash Money Millionaires back in the day.
While talking to the Migos trio, Tunechi revealed he will be releasing an animated music video for his "I Don't Sleep" song featuring Takeoff off the Funeral album soon. They also asked Tune if he remembers their unreleased "Fantastic" collaboration to which he replied with send him something new to record, and called him the G.O.A.T. numerous times. Quavo even mentioned that Lil Wayne was the one who inspired him to finish school!