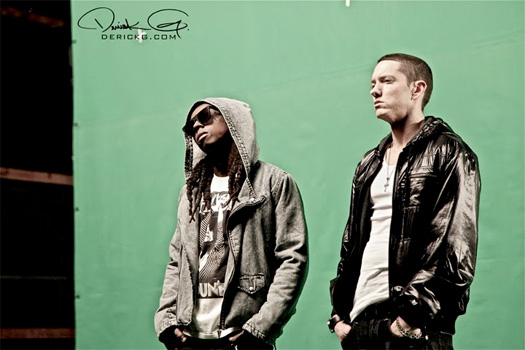 Last night, episode 3 of Lil Wayne's "Young Money Radio" show aired live on Apple Music and one of the special guests was none other than Eminem, who Wayne introduced as one of his "fellow G.O.A.T.s" and "favorite people".
During their conversation, Weezy chatted to Em about what he is currently doing in quarantine, "The Last Dance" documentary miniseries, what new artists he is listening to, if Ken Kaniff is still alive (lol), what inspiration he has for music nowadays, and how he is giving back to Detroit health care workers by distributing "Mom's Spaghetti".
Tunechi and Slim Shady revealed that they both have to Google their own lyrics to make sure they haven't said them in the past, as well as how they try to please both their core fanbase and their new generation fans. The Detroit rapper also praised Tune for his last couple of albums and his storytelling on "Mona Lisa" by saying it has "to be one of the top 5 verses of all time".
You can check out Mr. Carter and Eminem's conversation on "Young Money Radio" after the jump below! As a big fan of both of these rappers, it was great to see how well the two of them got on. I just wish they talked about or mentioned a new collaboration!