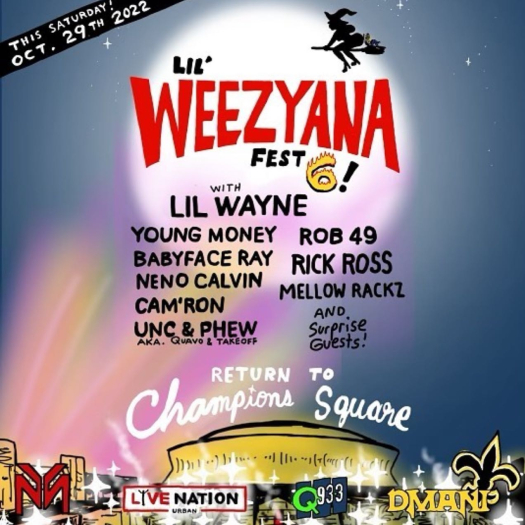 The 6th annual "Lil Weezyana Fest" has been announced and like the past 5 music festivals, it will be taking place in Lil Wayne's hometown of New Orleans, Louisiana, as well as be presented by radio station Q93 and Live Nation Urban.
This year's show, which is being held at Champions Square's Bold Sphere Music, will be happening on Saturday, October 29th and include live performances from Unc & Phew (Quavo and Takeoff), Cam'ron, Rick Ross, Babyface Ray, Rob 49, Mellow Rackz, Neno Calvin, and more. If it's based on the previous concerts, there will be plenty of special guests making appearances too.
If you wish to attend the 2022 "Lil Weezyana Fest", everyone will be able to purchase tickets via Ticketmaster from this Friday (July 15th) at 10AM CDT. Pre-sale tickets are available today and tomorrow (July 14th). Click here to find out what happened and who Wayne brought out at the last "Lil Weezyana Fest" in 2019!