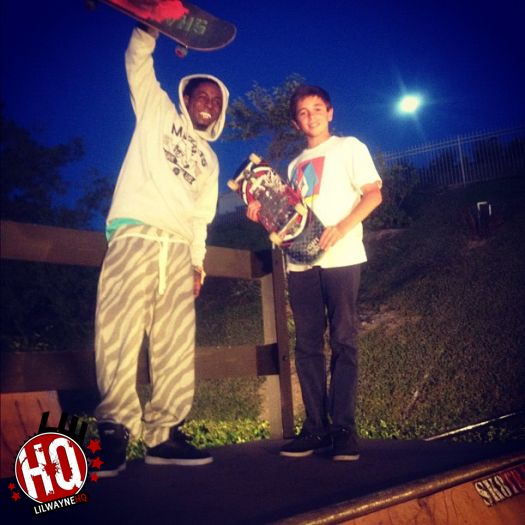 While attending the 2012 X Games in Los Angeles on Sunday, Lil Wayne participated in a live online chat with his fans and answered just over 40 questions.
Some of the questions that were submitted to Weezy were useful and interesting, but there were a few people who wasted a good opportunity to ask Tune a good question and instead asked dumb questions such as "how old are you?".
The two highlights from this interview are that Tunechi said he will record more collaborations with Eminem in the future and Tha Carter V will most likely drop next year. You can read the full chat with Wayne and his fans below:
ESPN: And here we are!!! Yo Weezy, what's happening?
Weezy: Chillin!

Casey (norfolk va): When did you get your interest in sk8tin?
Weezy: About a year ago. Saw some footage of Alex Midler, he was about 9. He was motivational and made me want to do it myself.

Kenny Gomez (Bayonne New Jersey): What's up Weezy! Big fan! I was just wondering what do you like most about skateboarding besides the style?

ESPN: Hey sorry everybody. Sal Masekla just brought his Mom over to meet Lil Wayne.

Serenityy (Slidell Lousiana): Lil Wayne, your a greattttt rapper and I love your music and your a great skater and you should do some more music with Eminem soon. Yay, thanks
Weezy: Thank you- I will.

Anthony Rodriguez (xgames): What is the trick you always tried to land??
Weezy: Since the day I pick up a skateboard I alway try kickflips. I got the flick I just need to land on the board.

Canice (Houston): Who is the best skater you have seen?
Weezy: Personally with my on eye would have to be Nyjah and Paul.

Robriguez G (South Carolina): Would you ever challenge Tony Hawk in skating?
Weezy: I would never challenge Tony Hawk in skating!

Branden Schwarztrauber (Osceola WI): Hey how well do u think Nyjah Huston will do with the bad knee. Also do you think that Sheckler will make podeum.
Weezy: I think Nyjah will still do well even with the knee. I still think he'll take it. But I think Sheckler and Paul will podium.

Matt (SLC): Do you think you should start your own skate contest like what Rob Dydrek did???
Weezy: That's the plan.

Stevo Burrito (TEXAS): Weezy can I get a shout out to Texas
Weezy: Shout out to Texas!

Hayden Crutchfield (North Carolina): How old are you?
Weezy: I'm 29.

Chris Haack (Allenton, Wisconsin): I am from Wisconsin so of course I'm a Packers fan! I heard you were too and I was wondering who your favorite Packer's player is. I also love to skateboard, what's your favorite trick?
Weezy: My favorite Packers player of all time is Sterling Sharpe, right now Aaron Rogers and my all time fav is of course Brett Favre. And my favorite trick is the fakie pop shov-it.

Mike Hernandez (JACKSONVILLE fl): Tunechi how about your own skating video game?
Weezy: I don't know about video games– ha ha.

Devaun (San jose): What was the last trick that you learned?
Weezy: The last trick I learned was frontside 180s.

Daniel Schletzer (Delano, MN): Lil Wayne, you are my hero. your a great rapper and a great skater. thanks
Weezy: That's awesome! I appreciate that!

Jake Knudsen (shelton,Washington): Hey weezy what is your favorite thing about xgames and when is carter 5 coming out
Weezy: X Games is a higher level of competition- I've been to a few other contest and this one is the best. Carter 5 will come most likely next year.

William (Usa): Have you ever tried mountain boarding? And your pretty good at skateboarding!
Weezy: Thanks! Never tried mountain biking but when I was younger I had a mountain bike.

Luke (Lancaster, PA): You're a beast Weezy. Favorite sports to watch?
Weezy: Football. Favorite to watch live is basketball.

William (norcross): How many awards do you think your going to win tonight
Weezy: I don't know- I don't know how many I'm nominated for- I'm not even going. I came out here for the X Games.

Tyler (Milwaukee): What do you prefer: street or vert skating?
Weezy: I prefer vert more because I learned vert. But now I'm learning more street- but if I had to show off it would be vert.

Sam (Burlington NC): You think you could handle the mega ramp?
Weezy: I saw it with my own eyes and I think I can. It doesn't look that big.

Matt (SLC): You should headline your own concert at X-Games…like Linkin Park did this year! Cause you represent skating better than anyone in the music game!
Weezy: I should- you're right I should.

Myz (valley): What was the worst injury you got from skating?
Weezy: Broke my clavicle two months ago. The injuring is know how long it's going to be till you skate again.

Jada Sell (Buffalo): Do you have pets?
Weezy: I do. I have 3 sharks- and that's about it.

Brittany (KC MO): How's the X games? They look sick, have you skated with any of the pros?
Weezy: I skated with most of these guys. This is my first X Games and it's sick.

Brandon BIZ (HUMBOLDT COUNTY, CA): Yo weezy…….any new collaborations coming up with artists you've never worked with before?!?! i am a producer and would love to send you a beat or 2!!!!!
Weezy: I'm sure that beat would be awesome. In the future I'm working with a whole bunch of artists.

Dee (WA State): Have you tried to get any other rappers to skate?
Weezy: No. Skating is such an individual thing, it's not something you can talk people into.

Blalock (ky): WHO's your favorite metal band?
Weezy: Right now I'm big into Anthrax.

Kahari Vidro (Grand Rapids, MI): Have you skated the X games course?
Weezy: No I haven't but would love to though.

Joey Benedetto (Liverpool, NY): If you were to invent a new trick, what would u call it?
Weezy: Probably "The Weezy".
Weezy: Weezy flip.

Robriguez G (South Carolina): Would we ever see Lil Wayne the golfer?
Weezy: Maybe- I'm into golf but I've never tried it.

Troy Lacerte (Dover, NH): When does your shoe come out?
Weezy: I just signed with Supra- I'm putting out Stevie Williams shoe first and mine will be next year.

Chris R (Illinois): Do you ever see yourself being a pro skater in the future if time allows?
Weezy: If time allows- you answer the question for me- it's something I really want to do.

TShep (NC): Do you look for new up coming rappers?
Weezy: I don't look for them- no.

Victoria Tartaglino (West Hartland, CT): When you were younger did you ever think you would become this famous?
Weezy: Nope- not at all.

Cody Farris (Alabama): Hey Lil Wayne, what did you think about the Alabama/LSU championship game this year?
Weezy: It was a good game- I wanted LSU to do it.

Logan L. (Erie,MI): When you were a kid what did you wanna be when you got older???
Weezy: A rapper.

Mike (Jacksonville): Collaboration with any Spanish artist? Who would it be? besides Romeo Santos?
Weezy: Gloria Estivan.

William (norcross): What's the name of the new Young Money artist?
Weezy: There's a few of them: we the future, there's a kid name Torion, PJ Morton and others.

Dan Duprel (Colorado): Fav famous person to be around?
Weezy: I'd have to say that would be Mike Tyson.

Logan L. (Erie,MI): Did your parents ever not approve of you being a rapper?
Weezy: Yep- sure did. I had to prove to them that it was actually worth it.

Kahari Vidro (Grand Rapids, MI): Is Trukfit gonna sponsor athletes?
Weezy: Yes we are- skaters first and a lot of football and basketball players that want to support the line.

ESPN: OK X world, that's it for Lil Wayne.