After suffering from two seizures or a migraine and dehydration on his private jet in the space of 24 hours, Lil Wayne has been staying with his mother at her house in Louisiana. The reason for this is because the doctors have ordered him to rest and not to fly on a plane for a good week.
We still don't know what happened to Weezy while he was in the air a few days ago, because two sources both repping Wayne have said he had suffered from a seizure while the other said it was just a severe migraine and dehydration. The good news that we do know for certain is that Tunechi is currently doing well: "Thanx for all the prayers! I am good."
You can view some of the messages that Tune's friends have sent to him after the jump below, including 2 Chainz, Meek Mill, 50 Cent, and Game.
"I talked to him last night before y'all heard about anything, so he's straight. Young Money for life, you dig? Get well soon homie. Hit me up!" – 2 Chainz
"I didn't get a chance to check in with Lil Wayne, you know he has probably a million people checking in with him at the same time. When I see him I'll make sure he's good. Wayne, that's the homie." – Meek Mill
"@liltunechi damn a seizure,try to get some rest man don't kill your self.SMSaudio" – 50 Cent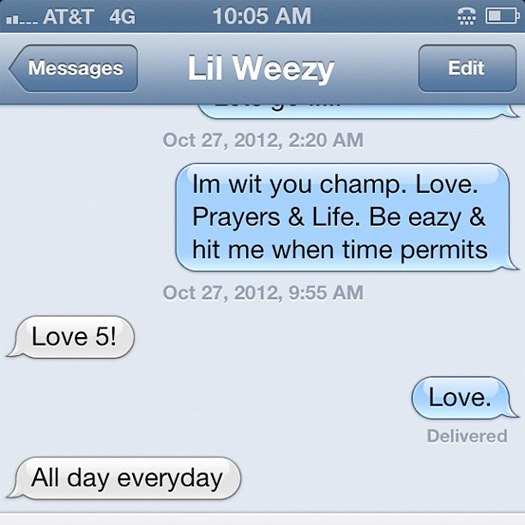 "It's more than music." – Game