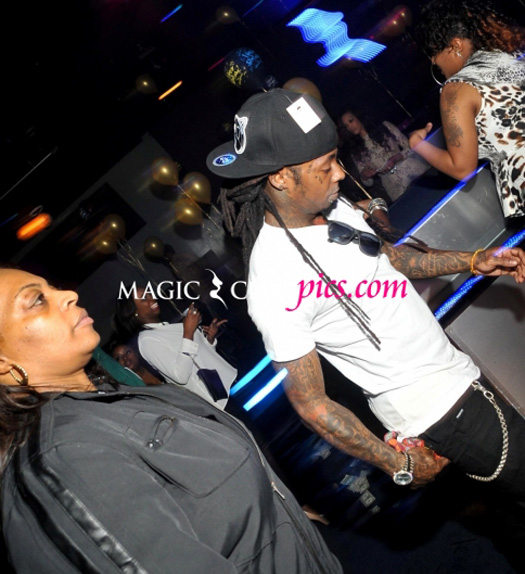 After suffering from a bad seizure yesterday, Lil Wayne has been recovering all day and night in Cedars-Sinai Medical Center before he will head home with his family later on in the week.
We still don't know the full story of what happened to Weezy F Baby because there are so many different reports online, but the good news is that he seems to be doing fine. He even tweeted last night: "I'm good everybody. Thx for the prayers and love."
Both Drake and Chris Paul were spotted visiting the Los Angeles hospital late last night to show their support for Wayne. You can view some of the messages that Tune's friends have tweeted after the jump below, including 2 Chainz, B.o.B, Demi Lovato, Fergie, Gabby Douglas, Game, Keri Hilson, Mac Miller, Paris Hilton, Randy Moss, Rick Ross, Snoop Dogg, Soulja Boy, T.I., Usher, Vinny Guadagnino, and more.
"Media should be ashamed" – 2 Chainz

"Spoke 2 @LilTunechi lastnight and the big homie @BIRDMAN5STAR 2night and everything good. God is good. Team Strong #YMCMB #RichGang" – Busta Rhymes

"He str8, don't believe the rumors." – B.o.B

"My prayers are with you @LilTunechi #ymcmb" – Christina Milian

"Get better @LilTunechi :(" – Demi Lovato

"My prayers go out to Lil Wayne & his family tonight. #PrayForWeezy @LilTunechi" – Fergie

"Sending up prayers for @LilTunechi #PrayForWeezy" – Gabby Douglas

"Rumors. My nigga good !" – Game

"Sending all my prayers and love to Lil Wayne (@LilTunechi)right now.u gon be aight brother. @BIRDMAN5STAR my thoughts are with u bro. Love." – Jay Sean

"Terrible news. Praying for a full recovery for @LilTunechi… #PrayersForWayne" – Keri Hilson

"Man MOTHER FUCK TMZ! Post that! My brother is doing fine! I don't give a fuk what the press, media, etc. have to say about me… But don't spread false lies about my family!!" – Lil Twist

"Prayin for Wayne." – Mac Miller

"Great to hear, was so worried. Love you Wayne." – Paris Hilton

"Luv an prayers goes out to lil Wayne" – Randy Moss

"We sending Prayers for mybrother Tunechi and YM." – Rick Ross

"praying for Lil wayne. N his family. We need a heavy prayer line to get Wayne bc to life. We need to help. He's our Lil brother @LilTunechi" – Snoop Dogg

"prayers for my brother." – Soulja Boy

"Say A Prayer For My Bro Lil Wayne…." – Trae Tha Truth

"all my prayers for @LilTunechi." – Vinny Guadagnino

Usher tells the crowd to make some noise for Lil Wayne.

T.I. says he spoke to Lil Wayne and he is doing good, plus: "TMZ some real fuck-nigga for putting that bull shit out there".