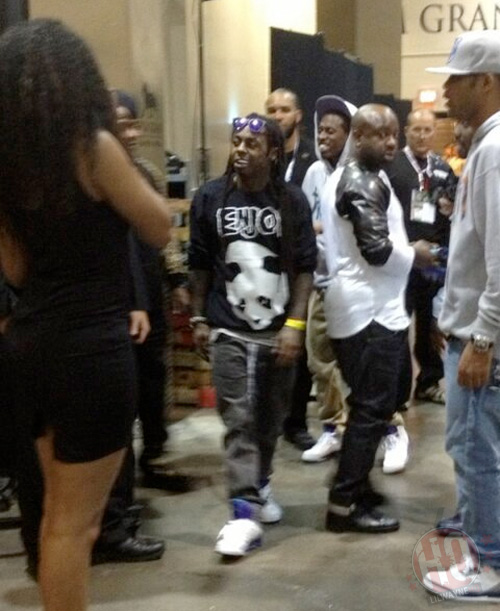 Lil Wayne accompanied Floyd Mayweather Jr. last night as he walked to the ring for his fight against Robert Guerrero at the MGM Grand Arena in Las Vegas, Nevada. While they were walking to the ring, Weezy F Baby rapped along to his "No Worries" single – most likely because of the "you see Money right there" lyric.
You can watch footage of Floyd and Tunechi's entrance after the jump below, as well as an interview Mayweather did after the boxing match with Tune standing next to him, plus a clip of Wayne laughing during the fight. During the interview, Floyd Mayweather Jr. thanks Young Money for their support and tells people to go get the I Am Not A Human Being II album!

Lil Wayne walking with Floyd Mayweather Jr. to the ring and performing "No Worries".

Floyd Mayweather Jr. interview after the fight with Lil Wayne standing next to him.

Lil Wayne cracking up during the Floyd Mayweather Jr. and Robert Guerrero fight.