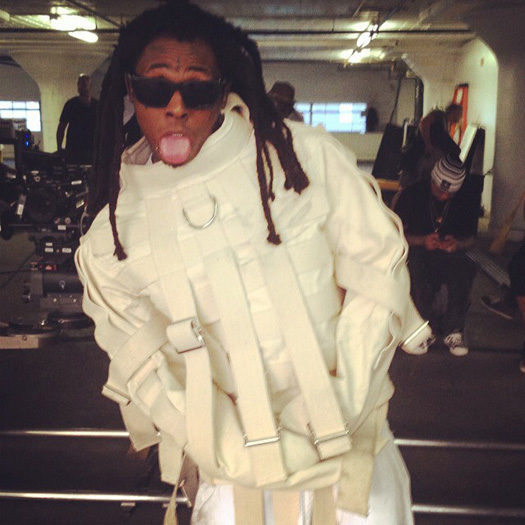 Producer DVLP recently chopped it up with Jay-Z's Life+Times website for an interview, which you can read below.
DVLP discussed producing "Side Bitch", being a fan of Lil Wayne, Tha Carter V, how he first met Wayne, being one of the first producers to work with him after he was released from Rikers Island, and more.
The producer also mentioned that Tunechi seems to be back to his old self after they had a studio session lately, the "Blunt Blowin'" song came from lyrics that Tune had wrote down while he was locked up, and Rick Ross' "Rich Forever" track was originally going to be the intro to I Am Not A Human Being II after Weezy laid vocals over the beat!
Life + Times: How did "Side Bitch" end up being featured in an episode of Weezy Wednesdays?
DVLP: "Side Bitch" was an older track, but it was recently sent to Wayne by my manager. Actually, I was surprised to see it on "Weezy Wednesdays." I believe it was just a matter of timing. I'm happy with the way the song turned out. I think it has great single potential.

L+T: Aside from the "Side Bitch" record, what else can we expect from Tha Carter V?
DVLP: He's been someone who I've always looked up to, because, honestly, especially in the rap game, I don't see that many people that work as hard as Wayne does. Wayne is a guy that is always recording. With that said, there are songs that have been recorded and songs that are being recorded, so you never really know what is going to make the album until the very last minute. Even the day of mastering, he's changing bars or switching up portions of a song. I can say that the records that are possibles to make the album are amazing. I don't like speaking too prematurely, but normally what me and Wayne make ends up standing out and being something pretty special. I think this album will have a lot of great records on it. He's putting a lot of energy into it. I feel like he's passionate about this album. He seems like he's more passionate with this album than he has been with the last couple of albums. You want that passion from him. I know I want that. I'm a fan. I feel as fans we want that great Wayne who was spitting that shit back. With the time I spent with him in the studio it felt like he was back to being his old self. It was reminiscent of the way he used to really go in and lay that shit down, so I'm excited.

L+T: You've been working with Lil Wayne ever since you produced "Fireman" for him. How did you initially link up with him?
DVLP: "Fireman" came out in 2005, but that beat was made sometime in 2003. I was sitting on it for quite a bit. Around that time, I was working heavily with Juelz Santana, because besides doing production for him, I was pretty much his engineer. He randomly hit me one day saying that Wayne was coming into town and that I should come by the studio. He said they needed an engineer to cut vocals and that I could also throw Wayne some beats. That's back when we were still using CDs. I ended up giving Wayne a beat CD with probably nine tracks. I got a call from him later that week saying that he wanted to cut vocals to six of the nine records that I left him. One of those records happened to be "Fireman." There were different versions of that record. Most of the other records he cut from that initial beat tape ended up coming out on the mixtape circuit back when records were just leaking all over the place. I did produce two other joints on Tha Carter II, which were "Hit Em Up" and "Feel Me."

L+T: You were one of the first producers to work with Wayne following his release from Rikers Island. What were those first few studio sessions like after his release?
DVLP: I wasn't the first. There were a lot of people there that first night he hit the studio. When I had gotten there Pharrell had already been there. Khaled was there playing stuff from his producers. I had gone in there really with just one record that I had made specifically for Wayne, which was "Blunt Blowin'." I made that a couple of weeks before he came home. I had a couple other beats, but "Blunt Blowin'" was the one I wanted him to get on. I felt like it was going to happen. With that beat I was really getting into character. I was thinking ball and chain and dark hallways. I was very cinematic in my approach to that record. I kept thinking that this guy had been in jail for eight months. I was sure he wanted to just lose his mind, so I wanted to make a really epic record where the music didn't come in until about a minute and a half and really let him express himself. It was the first record that he cut when he came home. He spent about two days on it. A few records had come out before, but they were all recorded after "Blunt Blowin'," including "6 Foot 7 Foot."

L+T: What was the biggest difference in Wayne after his release from jail?
DVLP: He's known as an artist that doesn't write things down, but due to his incarceration and to him not being able to record frequently, he had to write out the lyrics. He had started using notebooks for the first time in almost eight years. All of his bars in "Blunt Blowin'" were from when he was incarcerated. I'm just happy that record really captured a moment for Wayne.

L+T: Rick Ross' collaboration with John Legend, "Rich Forever" was originally an idea for Drake. How did it get to Ross?
DVLP: Funny enough, we were talking about me not wanting to have a sound, but with that record I did want it to have kind of the feel and arrangement of "Blunt Blowin'." I wanted it to have a really long intro and for the beat basically not to drop for a while. That's what I was going for with that beat. I was thinking it would be dope for Drake. I was thinking Wayne also and he had actually cut vocals to it. It was going to be the intro to I Am Not A Human Being II. Around the time Wayne was working on it, my manager Steven had gotten it to Ross' camp. After Ross released in on his Rich Forever mixtape, I was kind of like "How are you putting this great song on a mixtape?" But it's dope that the record became one of the highlights of that Ross' project. Lyor Cohen told us that "Rich Forever" is the best record of Ross' career.
Via Life+Times