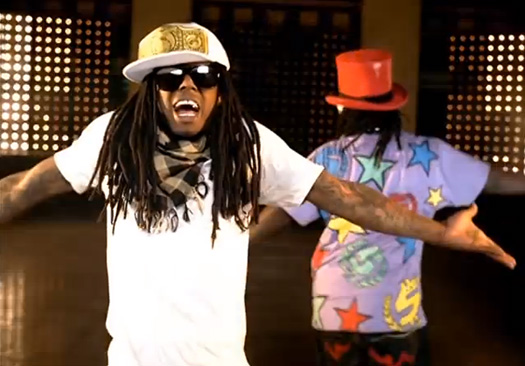 Play-N-Skillz recently explained to XXL about how one of their favorite productions in hip-hop came about, which was Lil Wayne's "Got Money" single featuring T-Pain that can be found on Wayne's 2008 album, Tha Carter III.
The producers mentioned that before Weezy F Baby got his hands on the beat, there was already a few other versions of the song that had different music artists on it, such as Pitbull, Plies, Fat Joe, and Capone-N-Noreaga.
You can read the full story below! Are any of you Wayniacs still playing "Got Money" in 2014?
Play: In my opinion, it's probably the most relevant record on that Tha Carter III. It's probably the only song that could still get play in 2014. The record was released in 2008. That's a song that could still get play. That record was a very interesting record because the song was never intentionally for Lil Wayne. We never made the song for Wayne. We actually never even made the song with T-Pain on it. Skillz actually sang the original chorus and we pitched it to Pitbull. Pitbull did a full version of it and he asked us to go get T-Pain on it, since Pain was a friend of his. So Pain ended up changing some of the lyrics on the chorus. He ended up doing it for Pit and Pit tried to go do the record. They couldn't get it cleared in time for his album. It was three days too late for his album, so he couldn't use that song. So now the song basically was a T-Pain chorus because we had to take Pitbull's verses off. So we started to shop the song and we shopped it to different people. Plies had it. Fat Joe had it. N.O.R.E. had it.

Skillz: N.O.R.E. was first.

Play: N.O.R.E.'s the big homie, man. He's a legend. We came up on C-N-N. So I was happy when N.O.R.E. wanted to do it, man. He's a friend of ours. So N.O.R.E. even cut on it. I think Capone and N.O.R.E. actually put a full version on it. Then, we got a phone call from T-Pain's people saying that Wayne wanted to use the record.

Skillz: That's a crazy story. Play actually had to call N.O.R.E. back and tell him that they couldn't use the record. It was almost like a bittersweet situation. Like you gotta call N.O.R.E.—who you're a big fan of—and tell him that they can't use the record. But he was real cool about it. He was like: "You know, as long as y'all give me something hot. Just give me something good." So we went back in and we gave them another record that was pretty crazy too. But that was just crazy to have to call him back and tell him that. That was crazy.

Play: I was a little scared. [Laughs] I didn't want N.O.R.E. going off on me. I respect him so much. Sometimes a situation like that happens where you know with timing and people hold records. They may have a plan for it, but they never really tell the producer. Then, the producer continues to pitch the song and record it with other people. Then, what ends up happening is two or three people end up having the song and you gotta end up making a tough decision. N.O.R.E. understood the situation. He saw where Tha Carter III was going and that it was a grand opportunity for Play-N-Skillz. He's a humble person and stand up guy. We worked it out with Wayne and Pain. They ended up doing the song. It ended up being on the Grammy Award-winning Tha Carter III. So we'll take it.

Skillz: It's rare when you have such a big radio/club record. Those records are hard to come across. Like "Ridin' Dirty", you couldn't play that record in the club. And it was on Tha Carter III. That right there was a classic album. He sold a million first week.