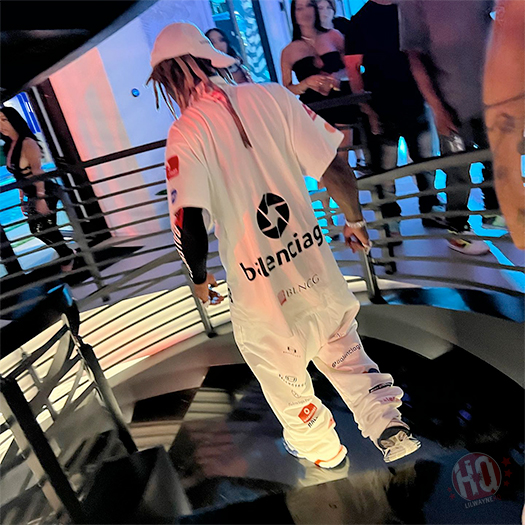 Over 30 hip-hop artists (33 to be exact) have revealed to XXL what their favorite project in Lil Wayne's discography is.
Included in the list of 33 rappers are: Ace Hood, Asian Doll, Curren$y, Dave East, DJ Khaled, G-Herbo, G-Eazy, Juicy J, King Los, Lil Durk, Problem, Royce Da 5'9″, Swizz Beatz, T.I., Trippie Redd, Tyga, Vic Mensa, and many more.
The answers that some of them chose, which you can see below, vary from the Sqad Up mixtapes to the Hot Boys albums, to the Dedication mixtapes, to the Da Drought mixtapes, to the No Ceilings mixtapes, to the Sorry 4 The Wait mixtapes, to The Suffix, to Tha Block Is Hot, to Tha Carter albums, and to Like Father Like Son!
24Hrs:
"[Da] Drought 3. Wayne is from Mars."

Ace Hood:
"[Tha] Carter I, that album was the [narration] to my young adulthood [at] 16-17 years old. My entire city was on that album! Every football, basketball game, every block party, etc… He also inspired me to challenge myself as a lyricist. Always bring your A game!"

Asian Doll:
"[Tha] Block Is Hot! A classic. I love and miss the young Lil Wayne. We use to be young going crazy to Wayne in his savage boy days. Man, to see what he has [become] is so amazing. Real growth. His music changed a lot of people life, including me."

Bobby Brackins:
"I love all of his mixtapes. I like all of 'em, even the old Sqad Up mixtapes, and then I really like, of course, all Tha Carter's. I love all the Hot Boys stuff. Wayne's whole career has just been [him] doing his thing."

Caleborate:
"Yo, my favorite album of Wayne's was [Tha] Carter II! It just seemed like on every track he was hella locked in. From 'Mo Fire,' to 'Receipt' to 'Hustler Musik'! Man it was just so personal and ethereal to me. The beats really hit me at the time, and Wayne's personal relationship with music just felt like he knew exactly what I felt at that time in my life. It's like he was talking to me on that album. It was like I could see his world!"

Corey Finesse:
"Ahhh, Wayne one was one of my fav artists growing up! I'd say Da Drought 3, that was my shit. Still bump it. That man a legend."

Curren$y:
"Dedication. [DJ] Drama really was crushing shit at that time and it was love all around, man."

DaBoii:
"Tha Carter III and Sorry 4 The Wait. He one of the biggest reasons why I rap today."

Dave East:
"Da Drought! Shit was life changing!"

DJ Khaled:
"My fav tape is the tape I did wit him called [The] Suffix. Also my fav verse is from my record called "We Takin' Over." My fav album from Wayne is all of them!"

G Herbo:
"My favorite Lil Wayne project was Da Drought 3. That to me was when Lil Wayne was arguably the best rapper in the streets at the time. Jay Z was leaning towards retirement and just at that time Wayne put fear in rappers' hearts. If you wasn't with him you didn't wanna be against him either!"

G-Eazy:
"Da Drought 2. I was a senior in high school and Wayne was the best rapper alive. The anticipation for Carter III was bigger than anything at the time, and he was putting out the craziest shit for free on these tapes so it set the bar hella high for the album. I remember the first time I heard 'I Feel Like Dying' and it felt like a huge step in his evolution as an artist, hearing how creative and vulnerable he was on that."

Icy Narco:
"Honestly I feel like there are too many mixtapes and albums to choose from. I love Tha Carter 3 but grew up listening to Sorry 4 The Wait 2 a lot. I always used to bump that shit. But obviously I've been listening to Tha Carter IV just in anticipation of the album that was just released, which is fire. Wayne definitely delivered, so Tha Carter V is up there too!"

Juicy J:
"I can't decide. I love all of his albums and mixtapes. I met Wayne when he was 14 years old at my studio in Memphis, Tenn. Three 6 Mafia and The Hot Boys recorded a classic song called 'Player Why Ya Hatin.' When Wayne laid his verse on the song I knew right then he was gonna be a legend."

King Los:
"My favorite album is [Tha] Carter. Classic. Most impactful body of work from any young artist historically. [My favorite] mixtape is No Ceilings 2, because I did my first song with Wayne on there called 'No Reason.'"

Lil Durk:
"Tha Carter II my fav. At that time in the trenches he was getting me through my hard times."

LouGotCash:
"No Ceilings—that was fire. That was just a different type of tape. That was crazy."

Nessly:
"[Tha] Carter III is my favorite! Wayne's versatility stood out the most while keeping a natural flow at the same time. It marked an important time in music and was historical from the quality of music, the sale, just everything about it made it legendary."

Problem:
"This might catch you off guard but I really fucked with the collab album he did with Baby, [Like Father, Like Son]. Shit had some jewels on it. [My favorite mixtapes are] all the Sqad Up [tapes] and the first No Ceilings. He just lyrically grew right in front of our eyes. A lot of people don't realize that Wayne been in the game just as long as Snoop Dogg."

Rico Recklezz:
"The Dedication 2 mixtape that made me step my shit up, definitely. Then [Tha] Carter II [a] fuckin' classic . Wayne Is def a legend. I love his play on words and how educated he still spits, even rappin' hood shit."

Royce 5'9″:
"Any No Ceilings because Wayne redefined what bars should sound like. He's [the goat emoji]. Please quote me."

Swizz Beatz:
"[Tha Carter III]. It just feel like he was settled in his vibe and mastered his craft [in] the Carter zone. Basically he's the young G.O.A.T. and he's just starting. That's my brother for life!"

T.I.:
"[Carter II] and Dedication sounded like a completely different Wayne from the one I'd been listening to from Hot Boys up until then. Total reinvention of himself as an artist. Lyrics were even more impressive. Metaphors and double entendres for days. Super dope."

Taylor Bennett:
"The Drought Is Over 4. It is a memory of a time and era when young, black rappers began to be themselves."

Trippie Redd:
"[Tha] Carter IV was my favorite at the time when he dropped it. I knew every word to every song. It was also the second hard album copy I ever bought. First one was Graduation by Kanye."

Tyga:
"Carter II. It was Lil Wayne's bible. Flow was too perfect. A lot of codes."

Vic Mensa:
"It's hard between [Da] Drought 3 and [Tha] Carter II for me. Both were untouchable lyrically and his ideas and free association were so off the wall it was just amazing to watch him go. He was also introducing so many new flows into rap, flipping dancehall rhythms to purposefully mispronouncing shit then correcting himself—it was just ill."

Wifisfuneral:
"Dedication 3 because I feel like Wayne was in his prime and half of those bars still give me chills till this day."

YBN Almighty Jay:
"[Tha] Carter II. The old Lil Wayne had that real down south Louisiana feel to it. I like that style."

YBN Cordae:
"[Tha] Carter III or No Ceilings. Carter III 'cause it was so revolutionary, it was just a complete masterpiece as far as an album. No Ceilings was just incredibly fire. Bar after bar after bar."

YBN Nahmir:
"I think my favorite was when he was with the Hot Boys and they made Guerrilla Warfare. My favorite song off there was 'Boys at War.' Wayne really snapped on his verse. It reminds me of how me and my niggas be."

Yhung T.O.:
"Tha Carter I because my uncle and grandpa Lamont—R.I.P.—who both got the same names always played it. So it was like my soundtrack growing up. When I think about all my childhood memories, I remember Tha Carter playing in every moment. "

Yung Bans:
"My favorite mixtape is The Drought Is Over 6 because the song "Eat You Alive," that was my favorite Wayne song growing up."