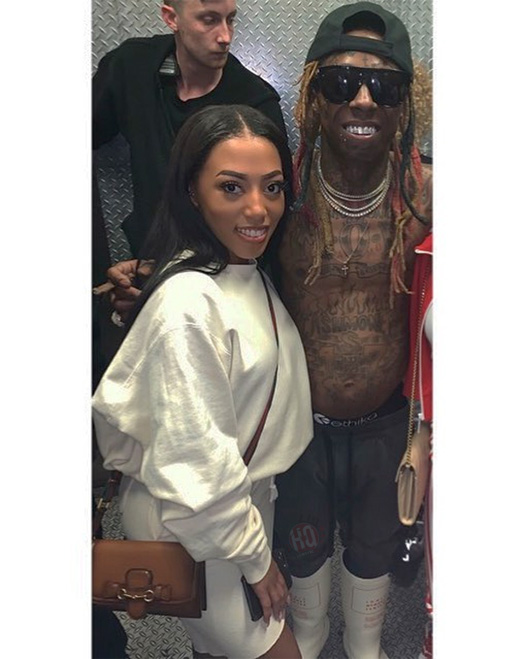 One of the co-producers from Lil Wayne's "Let It All Work Out" song, Myles William, spoke to DJ Booth all about the outro track off Tha Carter V album.
Myles talked about how he first got the beat to Weezy, how he never lost hope of it being released even with the long lawsuit, when exactly he found out that it would be appearing on C5, and plenty more.
You can check out everything what William had to say about "Let It All Work Out" after the jump below. The producer also called Tunechi his "favorite artist of all time"!
DJBooth: When did you first get the "Let It All Work Out" beat to Wayne?
Myles William: First part of the beat was done by the kid, Jordan. I made my part of the beat in 2013. Probably like November 2013, a few months after Sampha's project [Dual] had come out in July 2013. I had made the beat with Wayne in mind. I've always loved Wayne; he's my favorite artist of all time. At the time, I was working with Reefa and I was like, "Reef, we have to get this beat to Lil Wayne. I have to play him this beat."

Reef and Chris Gotti both took the song to Wayne. They were in a club with him one night and I got a text message: "Yo, we're in the club with Wayne, send that record you were talking about." So I send the beat over to them, next thing I know they're calling me back and telling me: "Yo, Wayne loved the record. You're gonna be on Carter V."

How did that feel?
It was not real. Wayne being my favorite artist of all time, it's like a dream come true.

Did you ever lose hope over the record coming out?
This is gonna sound so corny [laughs], but I didn't really lose hope. The crazy thing is, I ran into Wayne on the Drake vs. Lil Wayne tour [in 2014] and I actually had done two records with him. That first record ended up coming out on the Free Weezy Album and it was called "Murda." So I was like, "Yo, bro, what's good?" It was the first time I really met him met him. We chop it up and he's like, "Yeah, C5's coming," and I didn't think anything of it. When it didn't come, this sounds corny, but I just always felt like it was all gonna work out. This song means so much to me because, at the time in my career, it was gonna be my first big placement. Something in me just told me to let it all work out. Since, I've worked with Beyoncé, Eminem, lots of legendary artists, but something about this Wayne record meant so much to me.

When did you find out you were officially on this version of Tha Carter V?
It was tip-toe back and forth over the last five years. But I didn't officially know—even my attorneys and managers calling me, "Yeah, you're on the album," I couldn't really believe it until I saw it come out. It was official at 9:02 in LA, midnight on the East Coast, soon as it dropped. That's when I knew it.

How different is the beat we hear today from the original?
The part I did is exactly the same.

In the meantime, you're working with Beyoncé and Eminem and you just know this is going to come out?
I don't know it's gonna come out. I know I have it. There's a lot of records that I have [with] big artists like this, too, but none like with Wayne. I knew it was there, but I didn't know if it was ever gonna come out. I didn't know if this was going to be one of those historic albums that no one's got to hear.

Was this the biggest unreleased major credit you have?
I have some other big unreleased records that the world will find out about… I had a Travis Scott leak that came out; it's called "Myles." I was waiting for that to come out as a regular record. This record was the big record, for me, as far as… I'm sure hip-hop fans can agree: we've all been waiting for Tha Carter V. I'm a fan first, so me being able to produce and be part of the project, and wait five years, and then have the amazing message it has behind it, I just hope it's motivation for everybody. It's definitely motivation for me.

Did you hear his verses before the 28th?
I just sent the beat and just heard that he killed it. His engineer at the time was a mutual friend of mine, so he had called me and told me that Wayne killed it. I had never heard the record, which is crazy. I waited all this time to hear it.

How does it feel having your production paired with a top 10 most moving Lil Wayne song?
It's unexplainable [laughs]. I guess that's all I could say.

If you could, would you have leaked this track? Infamous told me yesterday he would have leaked his song.
First of all, shout out to Infamous. I've always respected Infamous. I've always loved his music and everything he did with Wayne. He's got a much different relationship with Wayne than I do, so I could never leak anything from Lil Wayne, and I never would. If I was as close to Wayne as he was, then it's a different situation probably, but I would have never leaked the record.

Biggest lesson learned from this journey?
Just stay focused and try to be a good person and stay humble, and keep working and [laughs] let it all work out.

Any life-changing phone calls following this placement?
Uh, yeah, I've had a few… I definitely had a few. I don't talk about anything, like Tha Carter V. I didn't wanna mention anything about it, but I've known this whole time. We've had some pretty life-changing phone calls in the last couple days.

Any hints?
I like to keep it all under wraps, but we'll definitely do another interview probably soon [laughs].

Let's speak some things into existence. Now that you've got Wayne, who's on the bucket list?
Alright, I need Drake and I need J. Cole.