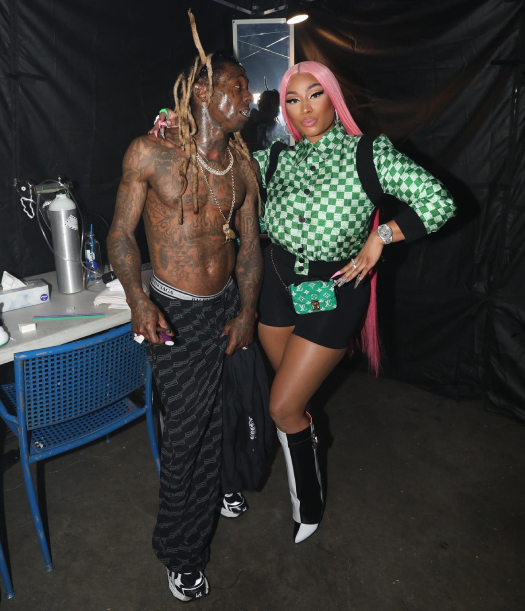 After originally getting postponed from August 1st, the Young Money reunion at Drake's 2022 OVO Fest took place from the Budweiser Stage in his hometown Toronto, Canada on August 6th.
During the show, Drizzy Drake, Lil Wayne, Nicki Minaj, Gudda Gudda, Jae Millz, and Mack Maine performed "Bedrock", "Up All Night", "Moment 4 Life", "The Motto", "HYFR", "Every Girl", and many more of their songs live together.
There was some trolling from Drizzy before Tunechi's set as he had a message of "Unfortunately, Lil Wayne had issues at the border…" pop up on the big screen before it then said "Luckily, Drake runs the border." Tune also dedicated his "Steady Mobbin'" song to the people at the Canadian border.
While on stage, Nicki got on the mic to thank Weezy: "I wanna thank this man right here please, this is the biggest best genius in the world, there will never be another Lil Wayne. I love you Wayne." Before then Drake told Mr. Carter: "These are your children by the way [*pointing to himself and Minaj*], look at your kids boss, these are your children."
Not long before the concert wrapped up, the 6 God shared a story of when Lil Wayne first gave him $30,000 early on his music career, which changed the next 6 months for himself and his mother. He went on to say the following to Wayne:
"That was the most important amount of money I've ever made in my life today. You're the most important man to each and one of us. This is me by the way, this is your son. Make some noise for the greatest rapper of all time. You also changed music forever, you are the most talented rapper to ever touch a microphone bar none."
You can check out some footage from this year's OVO Fest after the jump below! Did you attend the YM reunion?