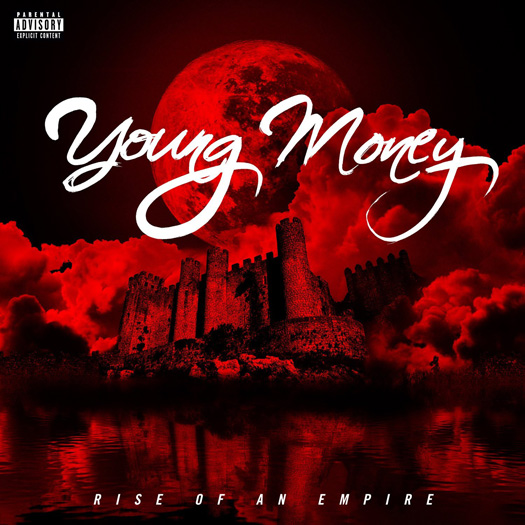 Young Money have revealed the official tracklisting for their forthcoming compilation, Young Money: Rise Of An Empire, which will be released in stores on March 11th.
The project will contain 12 songs with features from Lil Wayne, Drake, Nicki Minaj, Tyga, Chanel West Coast, Cory Gunz, Euro, Flow, Gudda Gudda, Jae Millz, Lil Twist, Mack Maine, PJ Morton, Shanell, Christina Milian, Yo Gotti, Meek Mill, Birdman, and YG.
You can view the tracklist for the Young Money: Rise Of An Empire album after the jump below!
1. We Alright – Young Money featuring Euro, Birdman, and Lil Wayne
2. Trophies – Young Money featuring Drake
3. Bang – Young Money featuring Lil Twist, Euro, and Cory Gunz
4. Senile – Young Money featuring Tyga, Nicki Minaj, and Lil Wayne
5. Induction Speech – Young Money featuring Euro
6. One Time – Young Money featuring Lil Twist, Tyga, and YG
7. Hittin' Like – Young Money featuring Shanell and Chanel West Coast
8. Lookin' Ass – Young Money featuring Nicki Minaj
9. Fresher Than Ever – Young Money featuring Gudda Gudda, Jae Millz, Flow, Mack Maine, and Birdman
10. Back It Up – Young Money featuring Lil Twist and Tyga
11. Moment – Young Money featuring Lil Wayne
12. You Already Know – Young Money featuring PJ Morton, Mack Maine, Gudda Gudda, and Jae Millz
13. Catch Me At The Light – Young Money featuring Shanell and Yo Gotti
14. Video Model – Young Money featuring Christina Milian and Lil Wayne
15. Good Day – Young Money featuring Tyga, Lil Wayne, and Meek Mill