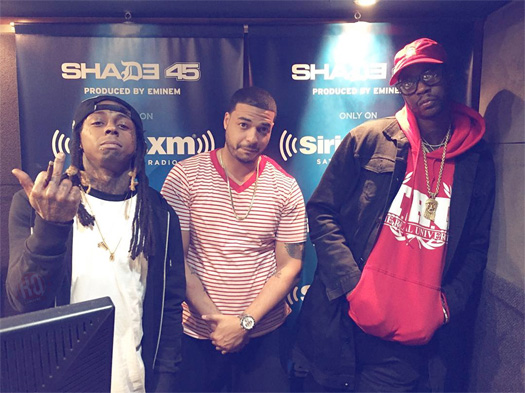 A week after hearing part 1, here is the second part of Lil Wayne and 2 Chainz' interview with DJ Drama and Sarah Vivan from Shade 45's "Streetz Iz Watchin" radio show in Atlanta, which is just over 30-minutes long and you can listen to after the jump below.
In part 2, Weezy revealed that he buys a lot of candy, any cost of him flying privately he will make sure he makes back by doing a walk-through, hasn't bought a new car in 2 to 3 years, the last thing he bought was a skate park, can't remember a single thing about the "Drake vs. Lil Wayne" tour, how he finds new music artists, has a new skate park opening up soon, and tells a story of Jay Z offering him $175,000 to sign with him that they still laugh about to this day.
Tunechi also spoke on his current lawsuit situation with his record labels, promises that we will hear a lot more new music once he sorts it out including "a lot more" collaborations with Jay Z, skateboarding with Justin Bieber on his crib roof, what's left on his bucket list, wanting to visit Africa as he has never been before, his children, and more!