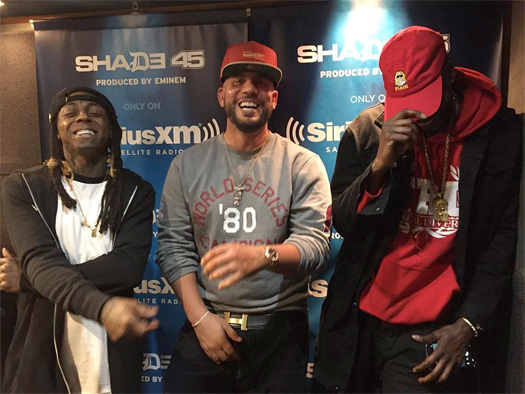 Lil Wayne and 2 Chainz recently stopped by Shade 45 radio station in Atlanta to chop it up with DJ Drama and Sarah Vivan on their "Streetz Iz Watchin" show. Like Sarah pointed out at the beginning, this interview is rare because Mr. Carter doesn't do radio anymore.
During their conversation, Weezy and Tity Boi spoke on their "TIDAL X: ColleGrove" show at The Tabernacle, sports, their ColleGrove project, why they named it what they did, hoping to release more songs that they recorded together which didn't make the album, dropping projects with release dates and not digitally, and plenty more. Chainz even revealed why he did not join Young Money when Tunechi asked him to in 2007.
Tune also talked about hearing 2 Chainz' "Dedication" song that was dedicated to him for the first time, being from a generation of trying to be the best rapper, not liking this new culture we are in right now and is happy to not be a part of it, how he thinks the definition of "success" has changed, not remembering any of the Dedication mixtapes, why he created Young Money Sports, how he feels to see his Young Money artists succeed, the Samsung commercials he has starred in, and Jay Z still being a mentor to him.
You can listen to part 1 of the interview after the jump below. Part 2 will be released soon. Wayne also confirmed Dedication 6 with Drama is happening and they may release it as an album instead of a mixtape!