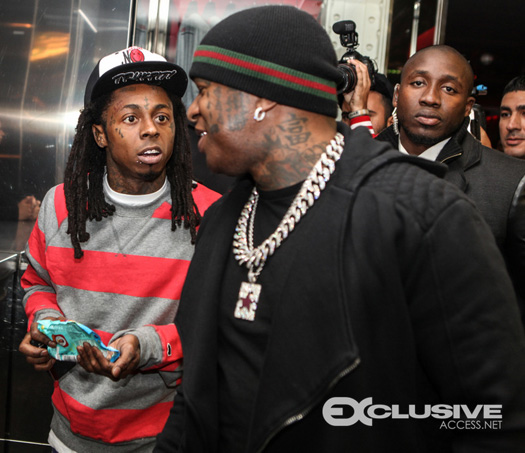 Birdman sat down with Big Boy on his Neighborhood show in Los Angeles, California yesterday to chat about his situation with Lil Wayne, him and Wayne throwing around $100,000 in strip clubs, growing up, going to jail, his relationship with Drake and Nicki Minaj, and more.
During the conversation, Baby revealed that he has not spoke to Tunechi in about a month, but they still see each other every day at the studio. He also mentioned that their current situation is "not serious", he still loves Tune to death, and he never wanted the music business to mess up his relationship with his "son".
Also yesterday, Birdman made an appearance on ESPN's Highly Questionable sports show and went into more detail about T-Pain's story of himself and Wayne betting $10,000 on video game matches in Madden. Weezy must of been watching the show as he went on Twitter to send a shot: "highly questionable is hiiiiiighly questionable today". You can check out the 2 interviews below!
.@BIRDMAN5STAR talks his early years, sleeping on a million dollars ,& playing Lil Wayne in Madden for 10k a gamehttps://t.co/7KXo2EHwqh

— Highly Questionable (@HQonESPN) June 28, 2016
highly questionable is hiiiiiighly questionable today

— Lil Wayne WEEZY F (@LilTunechi) June 28, 2016