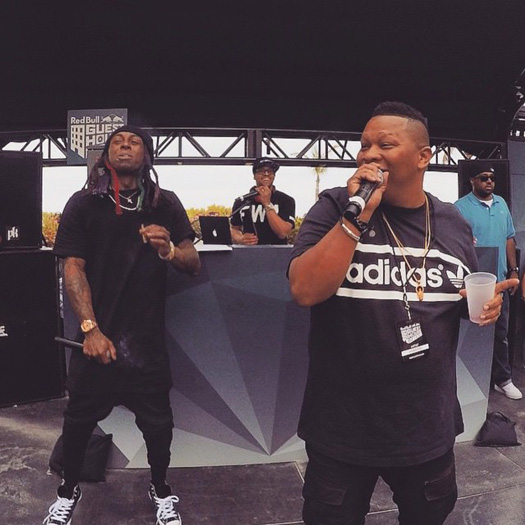 For the anniversaries of "Bling Bling" and Tha Block Is Hot, which both turn 20-years-old this year, Mannie Fresh chopped it up with XXL for an interview.
While discussing the classic single and classic album, Mannie revealed what advice he gave to Lil Wayne, explained the Fresh Files project will be full of songs which didn't make Tha Carter V, and disclosed what we can expect from that project, and more.
"Shit, I got about two albums worth of songs on Wayne."
You can check out everything that Fresh said after the jump below! Are you looking forward to hearing his and Wayne's upcoming album?
The 20th anniversary of B.G.'s classic "Bling Bling" is coming up. What do you remember about making that song two decades ago?
Even when I was creating that record and others, I always knew they were going to be big songs. I always knew these songs were going to be big songs and big to the South. What I mean is these songs have stood the test of time. I'm super blessed that my songs are still being played and are still in rotation 20 years later. I'm from the generation of my songs play 20 years later. That's incredible to me. I feel super blessed.

The 20-year anniversary of Lil Wayne's debut Tha Block Is Hot is also this year. If you now could give the Wayne from back then any advice, what would it be?
I always give dude advice. I'll tell you the last thing I texted him with. I told him take care of your crew. Make sure your people are right. This is not a shot at Cash Money or anything, but Wayne is now his own company. Lil Wayne is a brand, so just know that your word means everything. When you tell somebody you're going to do something, do it. When it's time to pay somebody, pay them. If you say you're going to show up, show up. That means everything to me. All of the rest of it is going to take care of itself. A lot of us have dealt with people in this industry that in one way or another took advantage of us and if you knew how that felt, don't do that to nobody else. And I'm not saying that that's him as a person. No way, no how.

Speaking of Wayne, you announced that there were enough records left over from Tha Carter V sessions for a project you said would be called The Fresh Files. Is that project really dropping?
Hell yeah! People are asking when are we're going to do this, but it can't interfere with Tha Carter. We have to let it get to the point where they feel like now go ahead you can do this. I get it, because it's not just him. It's Universal and all of that. The label is like, because Mannie is your dude, we're allowing Mannie to do this. It ain't got nothing to do with Universal. It would be purely just me. The world is definitely going to get those records. If I could've put it out with Universal it would've been out.

What should fans expect from The Fresh Files?
I feel like it's the Wayne that people want to hear. The format of those songs are even different from the two that are on this album. The format on "Start This Shit Off Right"—that wasn't the way the song was put together. There were some people that felt it was too musical and they dumbed the song down. On the project that I'm putting out, you're going to get the version of how the song was before it was touched. When you do something with people, you have to compromise. By no means am I arguing with it. At the end of the day, that's Wayne's baby. Tha Carter is his thing. I get it. Tha Carter was important to him. Wayne was gone for so long, so I knew why he was so protective of how he did this one. The cool thing is that there are some diehard Mannie Fresh and Lil Wayne fans that want to hear Wayne over Mannie Fresh beats without engineers tampering with it or without a room full of people going, "It would be cool if we moved this here." So the ones you're getting from me are the way Mannie Fresh would have did it. They are unreleased songs. Shit, I got about two albums worth of songs on Wayne.