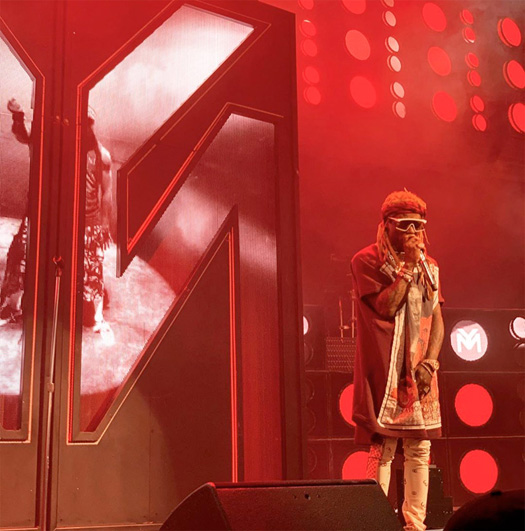 Over the weekend on June 29th, Lil Wayne and Blink-182 kicked off their joint North American tour at the XFINITY Theatre in Hartford, Connecticut.
For the concert on Saturday, Wayne brought out Gudda Gudda and even performed Tha Carter V bonus song, "In This House", live for the very first time in his music career. If you are wondering what other tracks Weezy performs on this tour, his full setlist is as follows:
"6 Foot, 7 Foot", "Don't Cry", "The Motto", "Hustler Musik", "No Worries", "John", "Got Money", "Rich As Fuck", "I'm Me", "Drop The World", "Lollipop", "Mrs. Officer", "She Will", "Every Girl", "BedRock" with Gudda Gudda, "Can't Be Broken", "Fireman", "Money On My Mind", "Go DJ", "Swag Surfin'", "Rollin'", "Wasted", "Ride For My Niggas", "HYFR", "No Problem", "Pop That", "Let It Fly", "Mona Lisa", "In This House", "Right Above It", "I'm Goin' In", "Steady Mobbin'", "A Milli", and "Uproar".
You can watch Tunechi's full set after the jump below, courtesy of Neudys Jimenez. The next stop on this Tune and Blink-182 tour will be taking place at the Ruoff Home Mortgage Music Center in Noblesville, Indiana tomorrow evening (July 3rd)! What are your thoughts on the first show?
Video credit: Neudys Jimenez
Pic credit: Felipe Soares.