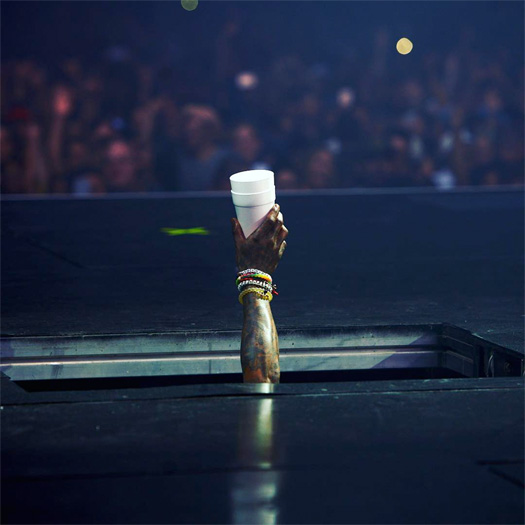 After complimenting Lil Wayne just over a week ago for letting him come out during "Lil Weezyana Fest" in New Orleans, Chris Brown has took to his Instagram page again to share some nice words for Wayne after he hinted he wanted to quit music. He even revealed that he knows Weezy wrote for most of the Cash Money artists when he was a teenager.
Mr. Carter's artist Drake also went on Instagram to share the picture above and say he is fighting for the boss' freedom to drop new music, it's Young Money "forever", and to thank him for giving him his shot with what seemed like a little diss to Breezy.
As well as Chris and Drizzy, another must artist that has showed love to Lil Wayne on social media after his hint at retirement is Young Thug. He mentioned he will hold Tunechi down for life, Tune is the reason he raps, hopes he is sorry for bashing him, and wants Wayne to know how much he loves him!
Chris Brown: This man helped my career in so many ways and has inspired me to live life!!! FOREVER WILL BE THE GREATEST RAPPER ALIVE!!!! NONE OF YOU RAPPERS WOULDN'T EVEN KNOW WHERE TO START. REALISTICALLY MOST OF Y'ALL ARE HIS STUDENTS AND DON'T WANT TO ADMIT IT!!! YMOHB!!!!! (and I know that Wayne wrote for damn near all cash money records artist when he was a teenager.) niggas wanna be down when it's all good but soon as they feel the pressure you have to deal wit they all will fade) #YMOHB

Drake: The boss @liltunechi. We are fighting until you get yours. Freedom to drop music and peace of mind. I don't know what these other weirdos are on with all the side talks but I know you gave me a shot and all I can ever do with the rest of my life is return the favor. YOUNG MONEY FOREVER

Young Thug: @LilTunechi I promise I'm holding u down no matter what… fuck the world and what they think\feel I'm with u for life, ur the reason I rap… I just wish u could love me the way I love u big bro… ur my idol for life and I hope ur sorry for bashing me, not knowing how much I love u…